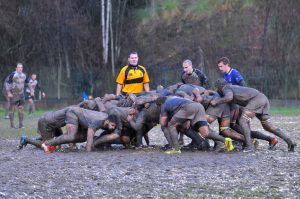 If you're thinking about sticking with the Standard Service Offer (SSO) from one of the state's 6 utilities this winter, you ought to reconsider. Currently, Duke Energy is petitioning PUCO for a new rate hike to go with it's SSO. Even worse is the big scrummage forming up over a proposed rule by the Department of Energy pitting generating companies against market regulators that could throw a wrench into the price of electricity in Ohio.
So, let's get a closer look at each before the mud really starts flying.
Duke Energy
PUCO allows utilities to develop their Standard Service Offers (SSO) through either an electric security plan (ESP) or market rate offer (MRO). Duke wants the increase as part of the ESP filing it put before the commission in June. The new ESP is designed to secure all the electrical supply needed for Duke's SSO customers. The proposed rate increase include four riders:
The Regulatory Mandates Rider would recover the operations and maintenance expenses from federal, state or Commission requirements not covered in existing rates or charges.
The Incentive Rate Making Mechanism Rider would provide a credit or charge to customers based on an earnings range and the company's actual earnings.
The Power Forward Rider would include costs related to the PUCO's PowerForward grid modernization initiative.
The Electric Service Reliability Rider would recover incremental vegetation management (tree trimming), operations and maintenance expenses since Jan. 1, 2017.
To cover all this Duke Energy has applied to PUCO to raise the monthly fixed rate or customer charge portion of the monthly bill. from just $6 to $22.77. Over the course of a year, Cincinnati electricity rate customers would pay Duke Energy another $200 per year.
Again, that's not money that goes to paying for customer's energy usage. PUCO thinks Duke Energy can deliver a better deal to its SSO customers (assuming they want to remain SSO customers). The rate change will be reviewed in early 2018.
The Big Scrum
FirstEnergy has been seeking government help to pass subsidizing rates to help keep its struggling nuclear plants running even though they have been losing money to cheaper natural gas power plants. The most recent law being pitched in the Ohio Statehouse is House Bill 381which would create a "Zero Emission Nuclear Resource (ZEN)" program to collect an extra $180 million a year for 12 years. For the average ratepayer, that adds another $30/year to the monthly bill. For FirstEnergy Solutions, the First Energy subsidiary that operates the power plants, its creditors are concerned.
There has been no hearings on this new bill, yet, but sides of this scrum have been forming up for a while. This past June, both FirstEnergy and American Electric Power began pushing for legislation that would enact new state-wide customer charges to keep nuclear and old coal power plants running. In a recent gambit, U.S. Secretary of Energy Rick Perry announced his "Grid Resiliency Pricing Rule" and directed the Federal Energy Regulatory Commission (FERC) to consider ways to reform the power markets to prop-up the nation's financially troubled coal and nuclear plants.
Locking heads and arms on the other side in Ohio is the PUCO itself, which just announced that it opposes the proposed DOE rule and voted to urge the FERC to reject the DOE's request. Their reason being that the DOE didn't quantify costs of the proposed rule and how it might affect consumers. PJM, which runs the Ohio grid and wholesale power market, said that the Pricing Rule would reward any generator, no matter their market, efficiency, or how well they competed, with "full cost recovery through out-of-market mechanisms." And also added that the Pricing rule "would remove half of all the capacity in the PJM region from the discipline of competitive market forces."
While distribution rates will likely remain in place this coming year, there is the probability of growing uncertainty in wholesale electricity rates until the Pricing Rule controversy is resolved. With a cold winter on the way, now's the time to compare electric suppliers for cheap, long term fixed rate plans. By shopping the best electric rate plans now, you'll be able to lock a great price, avoid higher SSO prices 6 months from now, and grab a great deal with a top-rated company!