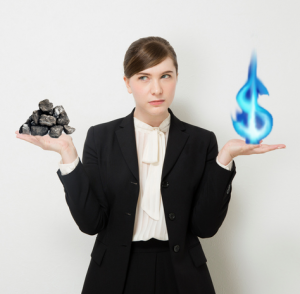 How many natural gas generators are being built in Ohio?
During the last week of June, the Ohio Siting Board (OSB) approved a new natural gas generating plant in eastern Ohio. The Harrison Power company, located in the Harrison County Industrial Park in the Village of Cadiz, OH, will have a capacity of 1,050-megawatts (MW) and be one the efficient combined-cycle natural gas generators. Construction on the $900 million project is slated to begin in 2021 and take 3 years.
The plant is just one of four natural gas generator projects undergoing approval in the Buckeye state. These four projects have a capacity of nearly 4,600 MW with operating start dates around 2020. All told, 11 natural gas plants representing 10,188 MW are planned to be built and operating by 2021.
Will closing coal fired plants affect Ohio's summer electricity supply?
According to 2017 Ohio energy data from the EIA before plant closures, coal fueled 58% of Ohio's net electricity generation, natural gas fueled 24%, and nuclear energy accounted for another 15%. With the high heat and humidity pushing electricity demand higher this summer, many Ohio rate payers have fretted over rising Ohio electric rates following the recent decommissionings of 59 individual coal-fired steam generators. All told, these coal fired steam generators represent 10,003 MW of lost electrical generation. A case in point is AEP's massive 1,600MW coal-fired power plant in Conesville will retire about half of its capacity by 2022. Completed in 1978, it's a example of 88% of coal fired plants that are way past their initially specified service life of 40 to 50 years.
Like coal plants, nuclear plants are having trouble meeting operating costs in the face of cheaper energy alternatives. One industry estimate makes the case that it would take $1.3 billion a year to prop up US nuclear plants. Ohio currently has two nuclear plants. Both the Perry Nuclear Power Plant and the Davis-Besse Nuclear Power Plant are owned by First Energy and are slated for closure.
In a recent Bloomberg News interview, FERC commissioner Richard Glick said, "Certainly I think right now utilities are considering going forward with retirement plans as is. It's pure economics. Gas prices are way down, renewable projects are getting much less expensive and they are beating other older technologies out in the markets."
How significant are Ohio's renewable energy projects?
While Ohio isn't fully dependent on it's own capacity and can import electricity from surrounding states via the PJM grid, it's growing instate natural gas fired generation capacity keeps Ohio electricity prices low.
Renewable energy, however, supplies only about 2.5% of Ohio's net electricity generation. But, in 2018, more projects are underway. A proposed Vinton County solar farm that will provide 125 MW of clean electricity will be built on reclaimed strip-mined land.
Wind, meanwhile, contributes just of half of the state's renewable energy resources. Currently, the most controversial, the Icebreaker Wind project is headed for its second local public hearing for July 19, 2018. Icebreaker Wind is a 20.7 MW demonstration wind farm consisting of six 3.45 MW turbines, each with a planned hub height of 272 ft with blade tips reaching up 479 feet. Located 8 miles north of Cleveland, in Lake Erie, the project would be North America's first off-shore wind project in the Great Lakes.
If successful, it would provide a template for building more off-shore wind farms in the Great Lakes to provide more cheap Ohio electricity.