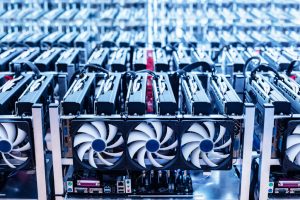 Ohio treasurer hopes to attract tech business by accepting cryptocurrency.
John Mandel, Ohio's state treasurer, made a bold move by introducing a program to accept cryptocurrency in Ohio as a form of payment for business taxes, making Ohio the first state in the nation to do so. Under the program, a business can now register with the state and pay bills from employee tax to electric bills in bitcoin.
Mandel trusts in the legitimacy of e-currency despite its unpredictable nature and recent 70% loss in value. The treasurer has high hopes for the interest the program will draw from tech companies with more options to pay taxes and bills.
But should Ohio electric consumers be worried about the affect the policy could have on cheap electric rates?
How cryptocurrency affects electricity rates in Ohio.
Cryptocurrency mining operations, the kind of business the new Ohio bitcoin policy is designed to attract, are huge electric consumers. CEO of a current currency mining operation, Joshua Holmes, says his operation could easily use 100MW of electricity, or enough to power 100,000 Ohio homes. They're currently operating with less than 2MW under electric grid restrictions.
What does this mean for Ohio electric rates? Bitcoin mining alone consumes more than 1% of the world's energy. Bringing more of these business to Ohio means the grid must adapt. For Ohio customers, this could mean higher electric bills as the demand in their area increases greatly. Alternatively, because utilities want this business, changes could be made to accommodate the energy-hungry operations. In this scenario mining operations could take on a larger share of the fees on electric bills. Ideally, this could lead to lower electric rates for consumers, giving them the best energy price.
Mining industry drives towards energy efficiency.
Cryptocurrency and other types of mining are energy intensive operations by design. But leaders in the industry recognize the current model is unsustainable. Developers are actively working on simplifying the mining process and lowering energy requirements to help secure cryptocurrency's future.
With these goals in progress, mining operations may eventually be less of a draw on the grid when they move into Ohio cities like Cleveland.
Ohio electric consumers should keep an eye on electric rates to avoid high bills.
The impact of Ohio's cryptocurrency policy on electric rates is difficult to predict with so many variables. But it's always a smart move to keep informed on the best rates by checking and comparing electric plans apples-to-apples.
To see energy savings for yourself, visit us here: https://www.ohenergyratings.com/electricity-rates.