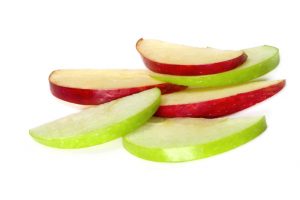 If you're not used to PUCO's Apples to Apples web site, your visit may leave you feeling a little hungry.
PUCO's site does feature lots of useful information on all things Ohio energy. PUCO does an excellent job to keep competition fair by presenting all this information impartially without playing favorites. But, say you're shopping for shiny, new residential plan in the AEP rate area. It take three clicks to get to the shopping page and even then, you only get bare-bones information about the plans offered by electricity providers:
Name of the supplier
Price per kWh
Rate Type (fixed or variable)
Renewable Content %
If there's an introductory price or not
Term Length
Early Termination fee
Monthly Fee amount
Promotional Offers — Yes/No. Available details are briefly described.
A link to the company's URL.
And any Offer Details that actually are available are also briefly described.
All this is basic, firm, apple-pie order information. If you were comparing Granny Smiths with Honey Crisps or Galas for firmness, roundness, and general flavor then PUCO's site format wins the blue ribbon. Throw in some recipes for pie crusts and fillings and it would be perfect.
Okay, teasing aside, electricity customers are not shopping for apples —they're shopping for electricity for their homes and are looking for the best Ohio rates and plans.
While PUCO's Energy Choice Site lets you compare electricity providers as apples-to-apples, their site offers only nibbles of information. While PUCO urges customers to do their own research and ask providers questions themselves, they don't show customers where to go to get objective information about electricity providers. If you're seriously shopping for a new provider and a new plan, you need better options. Where can you go for information that you can really sink your teeth into and chew over to make a well-informed decision?
What you want is a source where can you get detailed information about providers serving your area, whether you live in the First Energy rate areas or in those served by Dayton Power and Light. You'll want information that includes real customer reviews and comparative ratings; some place you can really get a taste of what providers are offering and how they treat their customers. And you want that source to be easy to navigate with just the kind of useful information that will help you make a knowledgeable decision.
At the Ohio Energy Ratings site, the useful information you need to make that knowledgeable decision is at your fingertips. From the first page, just enter your zip code, confirm your utility, and then you get to see the plans offered in your area. You can customize the listing alphabetically, or by term, or for green energy plans. Plus each plan listed is linked to a break down of general information describing the plan's type, term length, rewards, smart home discounts, reviews, as well as its OH Energy Ratings rank so you can see how it rates versus other plans in your area.