Find The Best Pub For A Night On The Town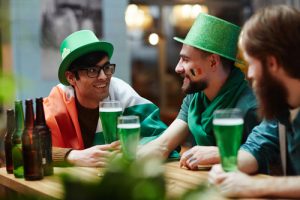 It's almost St. Patrick's Day! Whether you're Irish, or just like a good beer, it's the best night to go out and find good food and great music. If you didn't know, the Irish were actually one of the first groups to settle in Cleveland. On account of this, there's a rich history here which makes for some of the best Irish fare you'll find this side of the Atlantic. Check out these four best Irish pubs in Cleveland for St. Patrick's Day.
Best Irish Food Pubs in Cleveland
If you're looking for a genuine experience, head on down to P.J McIntyre's Irish Pub. As a matter of fact, this pub was voted the Best Irish Pub in Ohio. From the drinks to the meals, to the atmosphere, it's as Irish as you can get. Another great thing? The interior is modeled after a turn of the century pub in Ireland. Try their Pot Roast Dinner and the great selection of beers. Lastly, make sure you try a pint of their seasonal beer too!
Relax And Chill At This Pub
Are you looking for a more laid-back evening? Head over to Flannery's Pub. In addition to being a fantastic place to watch the game, this pub has a great relaxed atmosphere and is welcoming to everyone's tastes. With a wide menu and 21 years in business, their service is reliable and well-liked. Additionally, you should check out their 20 oz Imperial Pint Guinness, and plenty of sports screens for a fantastic night out.
Live Irish Music Pubs in Cleveland
Looking for some great tunes? Head over to The Harp! This pub has a spectacular view of Lake Erie and fantastic food. Most important, they feature live music and on St. Patrick's Day, it's The Boys from The County Hell. Be sure to check out the gorgeous bar top, and grab a serving of their Shepherd's Pie or their Guinness Ice Cream Sundae!
Enjoy Great Imported Beer
If you're looking for something outside of your standard pint, head on over to Parnell's Pub. They have a huge selection of imported Irish beers, as well as a great local selection of craft beers. Something that hits a little harder on the other hand? They've brought back their "Tea-to's Toddy". It's is made with Irish tea, clove-infused Tito's vodka, and local honey. While they don't serve food, their neighboring restaurants will bring food to you in the pub.
Spend Your St. Patrick's Day In Comfort
All four of these pubs have something special to offer, so don't miss out on the fun! From music to food to novel drinks, you'll find something special at each of these pubs. Additionally, if you want to be comfortable at home too, check out some great electricity plans right here. There are plans for all over Ohio, and plans for every budget. Take a look over at www.ohenergyratings.com