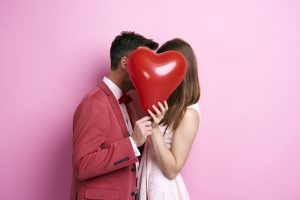 Make your Valentine swoon without breaking the bank.
Even if you use Ohio Energy Ratings to find cheap electric rates, you can still save money this Valentine's Day. That doesn't mean you have to skimp when it comes to treating your sweetie. When you compare apples-to-apples, a DIY project can have the same impact as an expensive gift from the store without the cost. All you need is the right idea to spark some romance. Start with our list of 7 low budget ideas and see where they take you.
Our best ideas to save money on Valentine's Day gifts.
DIY Treat: you don't need to spend a fortune on a store-bought bouquet of fruit. Homemade chocolate covered strawberries are an easy and decadent treat that will impress your partner. Add a special touch to your display with a drizzle of white chocolate or dipping in sprinkles.
Massage Basket: a massage is a great gift to give your honey on V-day. You can dress up the gift by putting together a massage gift basket with massage oil, lotion, essential oils, and a fragrant candle.
Memory Book: have you been collecting mementos throughout your relationship? Ticket stubs, brochures, favorite photos, or even a pen from a hotel can be put together in a memory book to make a unique and special gift you can't find at the store.
Homemade Dinner: going out for dinner is always nice but there's a lot to be said for a romantic dinner at home. Imagine surprising your Valentine with a few of their homemade favorites or a rare treat. Save even more and lower your electric bill with a candlelit dinner!
DIY Bouquet: there's no denying it, that bouquet of classic red roses will cost you. If you want to impress with a beautiful arrangement of flowers, hit the grocery store! Pick up a few small and inexpensive bouquets and put them together on your own for a beautiful gift that could cost you less than $20.
Clean House: we are heading into the world of extreme savings here. If your partner is the one who typically does more of the housework, imagine the impact of a gift as simple as making the house spotless from the toilet bowl to the kitchen sink. Throw in a load of laundry for good measure!
Show Them the Savings: is your Valentine the frugal type that likes to pinch pennies? Show them you appreciate it by returning the favor. Use Ohio Energy Ratings to compare Ohio electric rates, find the best energy plan, and save some money.
How Ohio Energy Ratings helps you find the best electric rate.
Whether it's a gift for your Valentine or just s smart idea you want to take advantage of, saving money with Ohio Energy Ratings is fast and easy. Simply enter your zip code and immediately see a range of electric suppliers and plans available to save you money. Because Ohio Energy Ratings includes all the details in one place, choosing the best electric supplier is easy.
Start comparing plans and save money today at: https://www.ohenergyratings.com/electricity-rates.