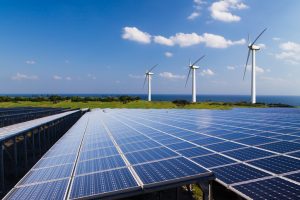 PUCO says AEP doesn't need 900MW.
In an effort to satisfy consumers and provide power at lower electric rates long-term, AEP Ohio seeks permission from PUCO for a 900MW renewable energy project in Ohio. But AEP doesn't want to pay for the wind and solar energy project out of their own pocket. Instead, they aim to charge consumers a rider fee on their AEP bills to recover building costs.
The Public Utilities Commission of Ohio has already recommended against the project, stating the utility has sufficient generation sources to meet consumer needs.
How much would the renewable energy project cost AEP customers?
The rider fee would start at a figure of 28 cents per billing cycle for a typical residential customer using about 1,000 kWh a month. AEP expects that number to go down and to eventually lower electric bills for their customers with cheaper Ohio renewable energy.
Although the cost to the individual is quite small, the PUCO must consider the best interest of consumers. Over the course of a year, an individual paying an extra 28 cents for this green energy in Ohio project will pay $3.36. But with approximately 1.5M Ohio customers, AEP Ohio would collect over $5M in fees in the first year. For PUCO, the price is too high especially when the electric demands of Ohio consumers are already being met adequately.
What happens next for AEP's renewable power project?
Evidentiary hearings for AEP's project began on January 15th this year, but it will likely be months before the PUCO makes a decision. The commission has received over 1,000 letters of support for the project.
Meanwhile, renewable energy projects coming before the Ohio Power Siting Board are moving forward. The Hardin Solar Energy Center hopes to more than double its originally approved size of 150MW with an OPSB hearing at the end of March.
Projects like these put more pressure on big utilities like AEP Ohio to provide cheap electric rates with renewable energy. But these utilities may need to find a different strategy than charging consumers to compete with Ohio's best energy suppliers.
How can AEP Ohio customers save money on electricity now?
The best way to save money fast is by comparing electric rates apples-to-apples at Ohio Energy Ratings. Shopping with Ohio Energy Ratings makes it easy to look at plan details all in one place so you can find the best option. Whether you're looking for a plan with renewable energy or just the cheapest electric rate, you can find the ideal plan fast. When you compare Ohio electric rates, you're sure to save!
Start shopping now: https://www.ohenergyratings.com/electricity-rates.