If you're an AEP Ohio customer, it's essential that you understand the bill and what it's saying from month to month. When you're fully informed, you can spot mistakes and understand exactly what you are being charged for. Read on to find out more about understanding your AEP Ohio bill.
How much do most AEP Ohio customers pay per kwh for their electricity?
The EIA (U.S. Energy Information Administration) states the typical rate for electricity in the AEP Ohio region is presently 14.78 cents per kWh. Based on this price, you could see savings as large as 38% based upon a average home using 1,000 kWh/month.
Also: The EIA averages include all the taxes, transmission and supply fees, and is an 'all in rate'. We provide the same 'all in rate' so you get the true apples to apples price comparison when you're shopping for Ohio energy rates.
How do I lower my AEP Ohio bill?
It's easy to get a better rate on your AEP Ohio bill.
Find your most recent bill, because you'll need two specific pieces of information from the bill - your 'Account Number' and your 'Service Address'. You can find these on the sample bill below.
Pick a supplier based on our ratings and customer reviews.
Click 'Sign Up Now' to place your order in our secure cart!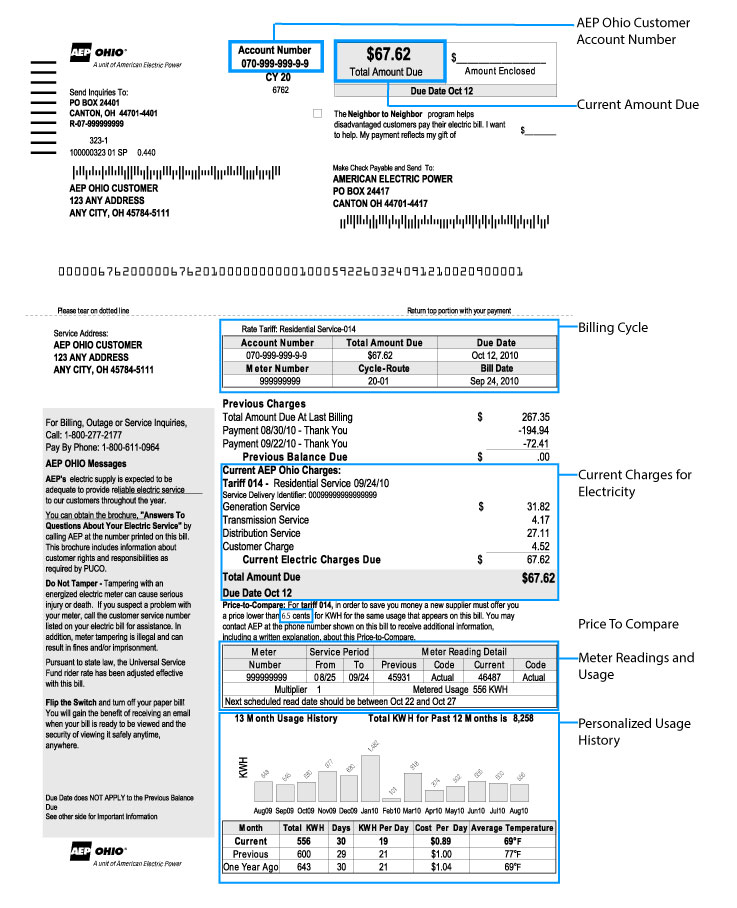 How much do I have to pay?
When you receive an AEP Ohio energy bill, the first thing you will care about is how much you have to pay. This amount can be found in the bill summary at the very top of the page. It will say "Total Amount Due by", and then there will be a date and the amount you need to pay to the right of it. In this box, the last payment received will also be listed, as will the balance forward total in case you need to know that.
What is my Current Amount Due?
The amount due to keep your account in good standing with AEP Ohio and the date that your payment is due.
What does "Billing Cycle" mean?
This tells you when your past payments were made and when your meter was read. It will also tell you about future meter readings and billing. This information could be helpful if you're the kind of person that likes to plan ahead and know when they will next have to deal with a bill.
Current Charges for Electricity
The amount you charged is broken down into two sums. The first relates to the generation and supply, and the second refers to the transmission and delivery. These are two separate charges, but they are added together to reach the amount that is found at the top of your bill in the summary section.
AEP Ohio Price To Compare - What does this mean?
Your AEP Ohio bill provides a Price to Compare, which allows you to shop for a better Ohio electricity rate from a new supplier. If a supplier can offer you a lower rate, you should consider switching.
Personalized Usage History
If you want to find out more about your energy usage habits, the personalized usage history section might interest you. You don't need to read this, but it's there if you want to. It simply tells you how you have been using energy this month compare to previous months or the same month last calendar year. It might be useful to have this information if you want to change your usage habits.