Popular Plan
10.41¢ per kwh
$0.00 MRC
The 'MRC' or 'Monthly Recurring Charge' is a fee that the provider will add to each of your bills in addition to the electric usage charges.

33 Month Fixed Rate
7.78¢ per kwh
$0.00 MRC
The 'MRC' or 'Monthly Recurring Charge' is a fee that the provider will add to each of your bills in addition to the electric usage charges.


Duke Energy History
Duke Energy's earliest incarnation in the electricity industry was as the Catawba Power Company. Created in 1900 by Dr. Walker Gill Wylie, the goal was to install a series of hydroelectric power plants on the Catawba River. Wylie convinced the wealthy industrialist, James Buchanan Duke, to invest in the project as a way of powering his textile mills. In 1905, the company was reorganized as Southern Power Company. Through merger and acquisitions, it expanded quickly; reorganizing in 1927 to form Duke Power, the precursor to Duke Energy.
Duke Energy's involvement with Ohio natural gas goes back to 1837 when a group of Cincinnati investors founded the Cincinnati Gas, Light & Coke Company to produce coke for iron works and then sell the coal-gas by-product to the city residents for street lighting. They eventually secured exclusive gas franchise rights and thereafter residential demand for coal gas quickly blossomed.
In 1877, former Union General Andrew Hickenlooper became the company president. Hickenlooper had very dim views on electricity and so-called "natural gas" from West Virginia. Though he would eventually reorganize the firm in 1901 into the Cincinnati Gas & Electric Company (CG&E), he fought ceaselessly to protect the company's coal gas monopoly. For nearly 26 years, he prevented cheap natural gas from entering Cincinnati. But in 1903, the ailing old general finally left his post. He died the following year.
Smelling a ripe opportunity, a confederation of entrepreneurs formed the Columbia Corporation with the intent to control "public service corporations, especially in Cleveland & Cincinnati, OH." Rebranded in 1909 as "Columbia Gas & Electric" the company inked a deal to supply CG&E with natural gas from West Virginia via its new 183 mile-long pipeline. Residents soon saw their gas rates cut in half. Then in 1911, CG&E became a subsidiary of Columbia Gas & Electric. This relationship only lasted until 1948 when SEC antitrust litigation forced Columbia to set CG&E free.
Left on its own, CG&E expanded its service area into Indiana and Kentucky by purchasing other former Columbia Gas & Electric subsidiaries, including the Union Light, Heat & Power Company (ULH&P). Though the post war years were rocky, CG&E expanded operations in the region. By the 1990s, the company was leveraging its access to gas suppliers and pipelines to improve generation. But as demand continued increasing even further, so too did the need to build even more generation. The solution came in 1994 when CG&E and ULH&P merged with Indiana-based PSI Energy to form Cinergy. The new company served 1.5 million electric customers and about 500,000 gas customers in Ohio, Indiana and Kentucky.
Meanwhile, by 1997, Duke Power had wooed and won the natural gas giant, PanEnergy, for $7.7 billion and changed its name to Duke Energy. Looking to expand further into natural gas fueled power generation, it bought Cinergy in a $9 billion all-stock deal in 2005.
Duke Energy Corporation now supplies electricity to approximately 7.4 million customers and distributes natural gas to more than 1.5 million customers in the Carolinas, Kentucky, Tennessee, and Ohio. As a responsible corporate citizen, Duke Energy invests in its communities and help nature and wildlife thrive through its foundation providing grants to charitable nonprofit organizations in four main areas: Environment, Economic Development, Education and Community Vitality.
Duke Service Territory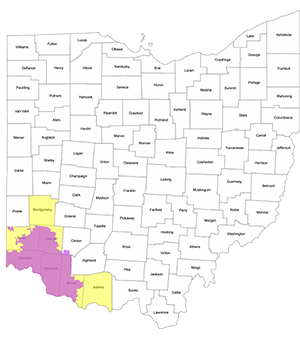 | | |
| --- | --- |
| | Duke Energy Ohio Electricity |
| | Duke Energy Ohio Natural Gas |
Duke Energy services about 1.4 million customers in some or all of these southwestern Ohio counties.
Adams
Brown
Butler
Clermont
Clinton
Hamilton
Highland
Montgomery
Preble
Warren
Willmington
Duke serves these cities:
Shop for Duke Electricity Suppliers In Your Area.
Popular Plan
10.41¢ per kwh
$0.00 MRC
The 'MRC' or 'Monthly Recurring Charge' is a fee that the provider will add to each of your bills in addition to the electric usage charges.

33 Month Fixed Rate
7.78¢ per kwh
$0.00 MRC
The 'MRC' or 'Monthly Recurring Charge' is a fee that the provider will add to each of your bills in addition to the electric usage charges.

Shop for Duke Natural Gas Suppliers In Your Area.
Popular Plan
10.41¢ per kwh
$0.00 MRC
The 'MRC' or 'Monthly Recurring Charge' is a fee that the provider will add to each of your bills in addition to the electric usage charges.

Intro Plan
OH Frontier Online Premier Gas-12
40.2%
under utility rate

Compared to the current Duke rate of

$0.9677 / ccf
$0.58 per ccf
$0.00 MRC
The 'MRC' or 'Monthly Recurring Charge' is a fee that the provider will add to each of your bills in addition to the gas usage charges.

Compare Duke Electricity & Natural Gas Rates
Compare alternative supplier electricity and natural gas rates
in the Duke service area.
Enter zip code.
Select electricity or natural gas.
Choose "residential" or "business".
Click "Shop for Rates".
In Ohio, electricity and natural gas utility service territories often overlap. If the tool reports that it has found more than one serving your zip code, don't worry! Just choose your local utility from those listed.
You'll then get to see the listing of all the energy suppliers' plans available in your area, along with rates, term lengths, and links to more detail information.
How to Start New Duke Service
Start your new service by calling Duke customer service at 1-800-544-6900. or by using their convenient secure online form to schedule the start date for your electricity and natural gas services.
You will also need to provide:
Address you are moving to
Address you are moving from (and a mailing address, if this is not the same)
Date service should commence
Your Date of Birth
Social Security number
Spouse or roommate's information
Once Duke receives the service request, it takes 1-3 business days to complete.When they assign you an account number, you can use to register for online account management services.
Will I Need to Pay a Deposit?
Duke checks your credit worthiness before setting up an account and to determine whether you will need to pay a deposit. conduct a credit check using your Social Security number. If Duke Energy Ohio is unable to verify a customer's identity, then a supplementary identity check form may need to be filled out by the customer.
TIP -- Be sure to unfreeze your credit. If you have frozen your credit with any of the major credit agencies, you will need to have it temporarily unfrozen before you submit a new service request.
If Duke Energy's credit inquiry is unsuccessful, you can establish creditworthiness through one of these methods:
The customer demonstrates they are the property owner or meets the legally-accepted practices to verify credit.
The customer has had a prior account with Duke for the same class of service within the past two years and, in the prior year of service, did not have a late bill more than twice and did not have service disconnected for nonpayment, fraud or tampering.
Have a guarantor who is a customer with the utility company and can pay your bills within 60 days if you fail to do so.
Ohio utilities are limited in the amount they can charge for a deposit. Customer deposits can be no more than the estimated average 30-day bill plus 30%.
Understand Duke Delivery and Supply Charges
In Ohio, residential customers pay for both the cost to deliver their electricity and natural gas as well as as the commodity cost for the amount of supply that they use.
Delivery Charges are fixed rate charges (tariffs) representing the cost of transmitting electricity or natural gas to your home via Duke Energy's power line and pipeline networks. The charges cover Duke's local infrastructure operating costs, maintenance, and ensure them a profit. Other usage-based charges are small costs from riders to fund projects, cover fees, etc. Duke's delivery charges must be approved by Public Utilities Commission of Ohio (PUCO). All Duke customers pay the same set Delivery rates (one for electricity, one for natural gas) no matter who supplies their energy.
Supply Charges represent the price for the amount of energy supply that you use. Customers can choose Duke's "Price to Compare" for electricity supply or their "Gas Cost Recovery" for their natural gas supply. However, because of Ohio's Energy Choice program, customers are free to also choose energy from competitive retail electricity or natural gas suppliers.
Understand Duke PTC and GCR Charges
PUCO requires Duke Energy to provide both electricity and natural gas supply at a default rate to customers in their service territory who don't shop for a retail supplier. Implementing both the PTC and GCR default rates is overseen by PUCO as they repesent costs that are passed directly through Duke onto consumers without mark up.
Price to Compare (PTC)
The PTC default rate represents the actual price the utility pays for the electricity. It includes not only the price to generate the electricity but also the cost to transmit it from power stations over high tension power lines to Duke's local electrical switch yards. From there, the electricity is distributed throughout Duke's local electrical grid for delivery to homes.
PTC rates are determined during periodic auctions for set periods of the year. Therefore, PTC rates will only last for a few months. That means these electricity rates can vary seasonally; low some months, higher the next.
Duke Energy Current PTC Residential Rate: 6.590 cents per kWh, expires 4/30/2023
Gas Cost Recovery (GCR)
The GCR default rate represents 100% of Duke Energy's gas costs incurred to purchase and deliver natural gas to its system. Duke Energy Ohio is the only natural gas utility in Ohio with choice that uses a traditional GCR process for default service.
The GCR is PUCO-approved default rate for the natural gas supply that you can select if you don't want to shop for retail supplier. The drawback with the GCR gas supply price is that it varies from month-to-month. Sometimes it's low, sometimes it's high.
Duke Energy Current GCR Residential Rate: 0.968 cents per ccf, expires 4/30/2023
NOTE: Some Ohio municipal utilities purchase energy for their local residents. Usually residents need to pay an opt-out fee if they don't want their electricity or natural gas service to be aggregated. Check with your local government to learn how you might be effected.
How Much Do Duke PTC and GCR Charges Cost?
Both the Duke PTC and GCR rates change periodically during the year. That makes it important for consumers to know and understand how much they are paying for their electricity and natural gas in any one month.
How much is the Duke PTC rate?
PUCO estimates that the average Ohio residence uses an average of 750 kWh each month. Therefore, an average PTC bill roughly breaks down like this:
| | | | |
| --- | --- | --- | --- |
| | Rate per 750 kWh Used | Monthly Customer Charge | Total |
| PTC Supply Rate | 6.590 cents | 0 | $49.43 |
| Monthly Distribution Charges | $0.031482 per kWh | $6.00 | $29.61 |
| Total Bill | | | $79.04 |
How much is the Duke GCR rate?
According to PUCO's estimates, the average Ohio home uses roughly 100 ccf per month.
At an average monthly usage rate of 100 ccf, a Duke GCR bill looks approximately like this:
| | | | |
| --- | --- | --- | --- |
| | Rate per 100 ccf Used | Monthly Customer Charge | Total |
| GCR Supply Rate | 0.968 cents | 0 | $96.77 |
| Monthly Distribution Charges | $0.032728 per first 400 ccf* | $33.03 | $36.30 |
| Total Bill | | | $133.07 |
* Consumption in excess of 400 ccf increases the residential rate to $0.097278 per ccf.
Understand Ohio Energy Choice
Ohio natural gas consumers are free to choose their own competitive retail electricity or natural gas supplier. These alternative suppliers shop deals with different producers on the wholesale market to offer competitive rates. As such, their rates are not controlled by PUCO. This way, retail suppliers are able to offer competitively priced fixed rate plans for a variety of term lengths.
Though it can seem confusing, shopping electricity and natural gas plans is an easy process. The trick is finding the one that meets your needs. That's why retail energy suppliers in Ohio offer two types of plans:
Fixed Rates have their price rate set for the same price over the term of the contract. That means customers can count on stable energy rates on plans lasting from 6 to 36 months. However, many fixed rate plans come with early cancellation fees for breaking a contract early.
Variable Rates Want to avoid getting tied to an electricity or natural gas plan for months or years? Then choose a variable plan. Variable plan rates on these contracts can change from month to month depending on the price of the electricity or natural gas supply. But while there's no contract, there's nothing to prevent your rate from going up one month or down the next. However, these plans don't have any termination fees and this allows customers the flexibility to shop for new rates and switch to better deals without paying any penalty.
Understand Your Energy Usage and Your Duke Bill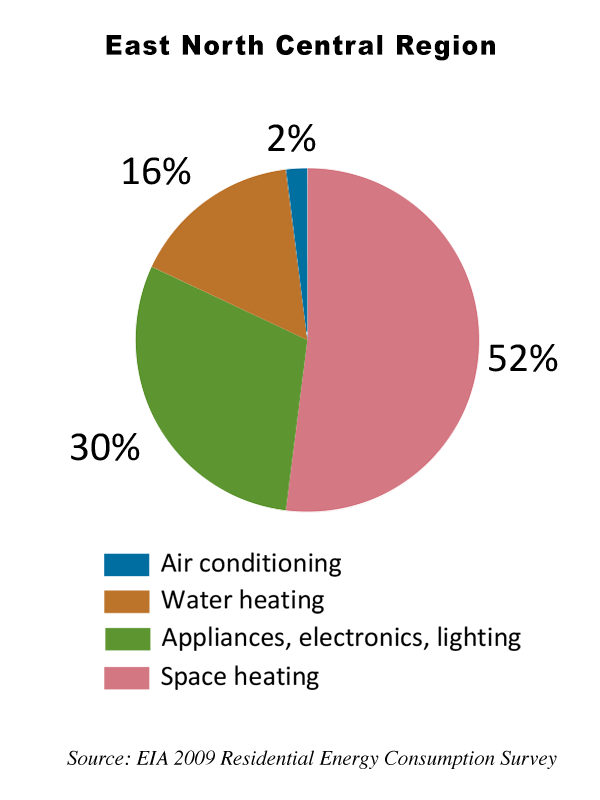 While your energy usage habits are unique to you, any Ohio native will tell you, winters can be bitterly cold and summers can be hot and muggy. In the east north central region of the U.S., about 52% of an average home's energy usage goes to space heating.
Average Annual Usage Breakdown
Though nearly one-fourth (24.3%) of Ohio homes use electricity for space heating, natural gas warms 65% of homes in the state.
According to PUCO's estimates, the average Ohio home uses roughly 100 ccf of natural gas per month.
Ohio residents use an average of 6% to 12% of their total annual energy costs for air conditioning.
The remainder of energy use goes to water heating, refrigeration, lighting, electronics, clothes dryers, cooking, and small appliances.
Want to learn more about your home energy usage? Duke Energy customers can request up to 24 months of their electric usage plus other relevant information free of charge.
The best way to cut your gas bill is to reduce your usage:
Seal your doors and windows against winter and summer drafts. Not only does it keep out the cold or hot air but it also reduces the amount of mold, pollen, and other allergens getting into your home.
Add insulation to your attic, basement, and duct work.
Install a programmable or smart thermostat. Programming it to set-back the temperature when you're away or inactive can improve your home's energy efficiency and help cut your electric bills.
Understand Your Duke Bill
Your Duke bill also comes packed full of useful information to help you better understand your usage and rate. But all these different line items that can be confusing to customers. Here is where we break down the most important items. Below is a sample Duke Electricity & Natural Gas bill.
Duke Sample Bill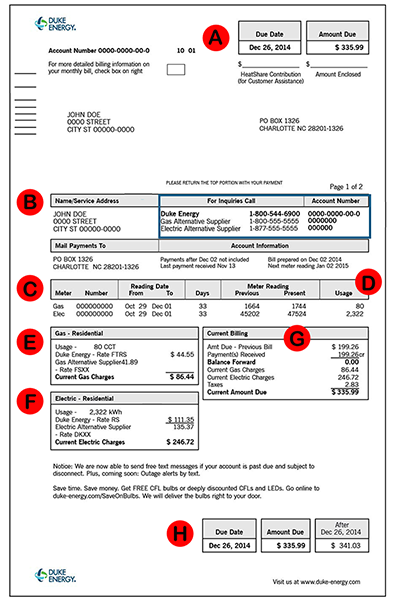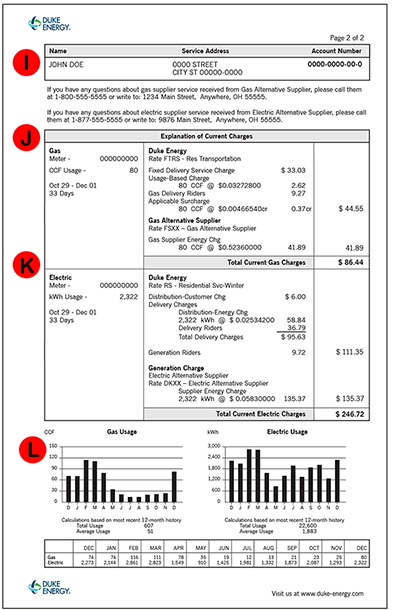 A: This is the mail-in payment stub. It displays important account payment information such as your 11-digit account number, the due date of the bill, the amount due, the address for the service, and where to mail your payment.



B:This account profile shows your account info, service address, and including contact informantion for your Duke Energy Account, as well as for the Gas Alternative Supplier Electric Alternative Supplier (if any). The section below shows the address to mail payments too as well as the date of your last payment, the date the bill was prepared, and the next meter reading date.



C: This natural gas service information features the meter-read date, number of days in the billing period, and the previous and present meter readngs.



D: This shows your usage (at top) of natural gas in ccf and your electricity usage (below) in kWh.



E: Here you'll find a break down of your natural gas charges showing your Duke Energy delivery charges and your supply usage charges from your natural gas supplier.



F: This section breaks down your electricity charges showing your Duke Energy delivery charges and your supply usage charges from your electricity supplier.



G: Your current billing summarizes how much you currently owe, including previous amounts due, whether those were paid or not, your current natural gas charges, current electricity charges, taxes, and how much your total bill amounts to.



H: This summarizes your current billing amounts for the the amount due, date due, and the amount due with the late fee after the due date.



I: On the second page, this section shows the name of the account, the service address, and the account number.



J: Explanation of current natural gas charges breaks down what goes into your gas bill. It includes fees, riders, and charges and the rate at which they're charged along with the Duke delivery charges and your supplier charges.



K: Explanation of current electricity charges breaks down what goes into your electric bill. It includes fees, riders, and charges and the rate at which they're charged along with the Duke delivery charges and your supplier charges.



L: A break down of your usage history breakdown shows the amount of your monthly electricity and natural gas usage for the past 13 months.



Duke Coupons, Energy Promotions, Discounts, Rebates and Promo Codes
As your local electric an dnatural gas utility, Duke offers several rebate and energy efficiency programs to help customers save money off their monthly bill by upgrading their home's energy performance. Some programs also offer money-saving incentives while others could make paying your monthly bills much easier during those expensive winter months.
Program Name
Program Type
Benefit
Home Weatherization Program
Residential Energy Efficiency
Income-eligible homeowners and renters whose income does not exceed 300% of the poverty guidelines of the Federal Poverty Guidelines may receive energy efficiency improvements to their homes at NO COST:

Energy audit to determine improvements.
Upgrading insulation.
Installing a new natural gas furnace.


PUCO Winter Reconnect Order
Bill payment assistance

Starting October 5, if your service has been shut off for non-payment or you have a shutoff notice, you can maintain or restore service for just $175 plus a reconnection fee - no matter how much you owe. Call Duke Customer Service.

Home Energy Assistance Program (HEAP)
Bill payment assistance

Federal grant to help pay your winter heating bills.To qualify for HEAP, your annual household income cannot exceed 175% of the poverty guidelines.

Winter Crisis Program
Bill payment assistance

Runs from November 1, 2020 to May 1, 2021 for customers whose service is shut off for non-payment or have received a shutoff notice.
Customers who meet income eligibility requirements can receive a grant. Contact your local Energy Assistance Provider.

Percentage of Income Payment Plan Plus (PIPP Plus)
Bill payment assistance

Helps eligible Ohioans manage their energy bills year- round. Payments are based on a percentage of household income and are consistent year-round. To qualify your annual household income cannot exceed 150% of the federal poverty guidelines.

HeatShare Program
Bill payment assistance

Duke Energy contributes $100,000 every year and matches contributions dollar-for-dollar up to $100,000 to help seniors and families who struggle to pay their energy bills. HeatShare is administered by the Salvation Army and may provide up to $400 to eligible Duke Energy Ohio customers.

Equal Payment Plans
Bill payment assistance

Duke offers a variety of payment plans that allow you to avoid spiking mid-winter bills or to pay your past due balance over a period of pre-determined months.

Budget Bill is a free billing option that provides 11 months of equal payments with a settle-up on the 12th month.
The One-Sixth Plan Each month, you will pay your current charges plus a portion of your past due balance over a 6 month period. An initial down payment is required.
The One-Ninth Plan Customers must agree to a Budget Plan amount for their projected monthly costs each month. Each month, you will pay this plan payment amount plus a portion of your past due balance over nine months.
Duke Reviews
To be sure, Duke Energy is a much-lauded company. It was recently ranked 125 in Newsweek magazine's 2020 list of America's Most Responsible Companies, out of 2,000 companies analyzed. So because Duke serves a large Ohio market segment, understanding how it compares to other large-scale incumbant utilities can show just how well it serves its residential customers. Duke is not accredited with the BBB but was well-rated in both J.D. Power's 2021 utility residential customer satisfaction studies. The utility also rated well in Escalent's 2021 Utility Trusted Brand & Customer Engagement™: Residential study.
OH Energy Ratings Score
Better Business Bureau
J.D. Power 2019 Electricity Utilty Study
J.D. Power 2020 Natural Gas Utilty Study
Escalent 2021 Utility Study
N/A
not accredited,
A+ rating
757
of 1000 pts
755
of 1000 pts
718
of 1000 pts
How do I Get the Cheapest Duke Rate?
Shopping for a new Duke Energy Choice Plan can seem bewildering at first. Once you understand how it works, though, it's an easy and straightforward process. That said, you should have these three things with you when you shop for natural gas.
Your current bill. Your past usage per billing period can help you estimate a how much a plan might cost you each month.
The current Duke PTC or GCR rate and expiration date. Knowing the current Duke Energy of Ohio supply cost gives you a price to compare with retail energy suppliers. This way, you can get a better feel for what they're offering, for how long, and if any of their incentives make their price work for your family's need.
Your Duke Energy of Ohio customer account number. This 11 digit numberis located in the upper left corner of your bill. Having it handy lets you sign up for retail supplier offers right away.
Duke Shopping Questions
Often when you know the right questions to ask you'll learn exactly what you need to save money or avoid making a bad choice. When you shop for natural gas service in Ohio, always be sure to ask these important questions:
Is the rate competitive with Duke's PTC or GCR supply rate?
Is the rate variable or is it fixed?
How long does the plan last?
What happens when the contract expires?
Does the plan have any recurring monthly charges?
Does the plan come with an early cancellation fee?
Does the supplier offer any customer incentives or rewards?
There are also some other important things to understand ahead of time:
Who bills me? Duke sends a single bill that outlines and adds up your monthly charges.
What are the Terms of Service? The Terms of Service explain and identify specific charges and any fees a customer will face when they sign up for an electricity or natural gas plan. Many suppliers offer different rates for plans with different term lengths. All Ohio energy choice customers should read and understand the terms of service and contract summary for any plan they are interested in before they sign on to the plan.
What are early termination fees? Switching retail suppliers before a contract ends can involve paying early termination fees. These can take a chomp out of your checking account you if you want to switch retail providers before your natural gas plan contract ends.
Where can I find more information on my usage? Duke customers can request up to 24 months of their gas usage plus other relevant information free of charge.
Compare Electricity & Natural Gas Rates in Your Area
Electricity Service Out? Do You Smell Gas?
Contact Duke Energy!
Problems or interruptions with your Duke Electricity & Natural Gas supply? Here's the proper people to call:
Billing problems? - First thing to do is contact Duke Energy. If you have trouble paying your monthly bill call Duke Energy's Customer Service: 1-800-544-6900
Need extra time to pay your energy bill? contact Duke Energy. Cusotmers can request an extension when you only need a week or two. Call Customer Service or apply on-line.
Emergencies and Outages
For all emergencies, call 911 immediately! Duke uses separate phone contact numbers for electric and natural gas problems and emergencies.
Electricity -- call Duke at 1-800-543-5599.
All power transmission lines are extremely dangerous! Never attempt to move a downed power line by yourself. Call 911 and then notifiy Duke Energy.
Check Duke Energy's current electric outages as they are being repaired.


Natural Gas -- Call Duke at 1-800-634-4300.
Natural gas leaks are extremely dangerous. Any kind of spark can ignite an explosion.
What If You Smell Natural Gas?
Leave the area immediately if:
You SMELL natural gas.
Mercaptan is added to natural gas to give it the distinctive stink of rotten eggs.
You HEAR unusual sounds like hissing or whistling.
You SEE a damaged connection to a natural gas appliance, dirt or water blowing into the air, a dry patch of grass, or a fire or explosion near a pipeline.
Don't try to find the source of the leak. Just stop what you're doing and move to a safe distance at least 350 feet away.
Natural gas pipelines are important projects. Aging natural gas pipelines need to be replaced to maintain safety and reliability while new pipelines can help growing neighborhoods and businesses. You can learn more about Duke energy pipeline projects to see what projects could affect your service.
Latest Duke Energy Ohio News
Shop 36 Month Electricity Rates In Cincinnati
Lock In A Long Term Rate For Three YearsShop 36 month electricity plans in Cincinnati. These rates are low priced and highly competitive! Plus, you'll get the freedom to switch without paying a penalty if rates fall this spring!We get it, you don't always want to be waiting on tenter hook...
Get The Best Electricity Deal In Kenwood, OH
Sure, energy rates are going up. You don't want to get caught out in the cold on a variable rate. Now's the time to shop for the best electricity deal you can find. Save Money This Winter By Switching And Saving Winter is coming to the Ohio Valley. However, the only snarling dragon here is your...
Duke Asks PUCO for Electric Rate Increase
Duke Energy wants a rate increase to your monthly bills. Find out what it affects and how you can save more on your Ohio electricity. Possible Rate Hike For Ohio Residential Customers Duke Energy recently sent a request to the Public Utilities Commission of Ohio (PUCO) for a rate increase of near...
Duke Energy Ohio Service Area Providers
Ohio Zip Codes with the Cheapest Electricity & Natural Gas Rates