18 Month Fixed Rate
18 Month Home Natural Gas Plan
$0.60 per ccf
$0.00 MRC
The 'MRC' or 'Monthly Recurring Charge' is a fee that the provider will add to each of your bills in addition to the gas usage charges.

12 Month Fixed Rate
$0.56 per ccf
$0.00 MRC
The 'MRC' or 'Monthly Recurring Charge' is a fee that the provider will add to each of your bills in addition to the gas usage charges.

12 Month Fixed Rate
$0.49 per ccf
$0.00 MRC
The 'MRC' or 'Monthly Recurring Charge' is a fee that the provider will add to each of your bills in addition to the gas usage charges.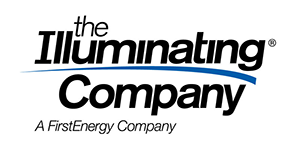 The Illuminating Company History
In the mid-1870s, Cleveland engineer Charles Brush patented designs for generators and arc lamps that were more reliable and powerful than his competitors. Brush soon set up the Brush Electric Company in 1880, supplying lighting to major U.S. cities, including New York City, Boston, and Philadelphia. Yet, in spite of Brush's success, the Cleveland Electric Light Company, which organized the very next year to light Cleveland's streets and storefronts, chose the rival Thomson-Houston system instead. It was a shrewd choice for by 1884, Cleveland Electric Light Co. had bought licenses to supply Edison incandescent lights to downtown stores. Brush Electric never regained the limelight.
In 1889, Brush sold his company to Thomson-Houston Co. In 1892, J. P. Morgan wrangled the merger of Thomson Houston Co. with Edison General Electric Co. and created General Electric (GE). GE then scooped up the assets of both Cleveland Electric Light Company and Brush Electric and formed the Cleveland General Electric Company. The company later changed its name to the Cleveland Electric Illuminating Company (CEI).
Until 1906, CEI operated without competition in Cleveland. However, that changed when Cleveland Mayor Tom Johnson created the Municipal Light Company ("Muny Light") in 1907 to serve Cleveland residents.
In 1929, the North American Company, a large public utility holding company, acquired CEI. As with other similar holding companies at the time, North American expanded rapidly and by 1940, it controlled 80 companies, four of which were major U.S. public utilities. In 1946, North American was forced divest itself of its utility company assets to comply with the Public Utility Holding Company Act of 1935. As a result, CEI became an investor-own public utilty company.
As demand for energy rose during the 60s and 70s, CEI invested in nuclear power plants in collaboration with Toledo Edison. The energy shocks of the 70s energy crisis ultimately brought CEI to merge with Toledo Edison in 1986 to form Centerior Energy. Then in 1997, Centerior Energy combined with Ohio Edison and Penn Power to form FirstEnergy.
Today, CEI (or "the Illuminating Company") gives back to its community through a number of programs sponsored by FirstEnergy. These include energy conservation efforts like the Community Connections Program, supporting education with school supply donations and hiring new graduates, and assisting local food banks via the United Way. In 2019, FirstEnergy was recognized for the 21st consecutive year as a Tree Line USA utility by the National Arbor Day Foundation, for demonstrating excellence in tree care, training, and public education.
The Illuminating Company Service Territory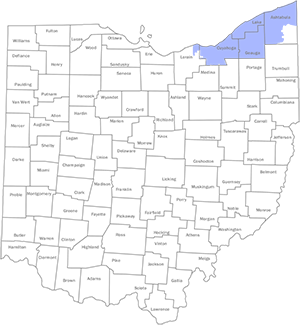 The Illuminating Company services more than 700,000 customers living in some or all of the following counties in northeastern Ohio:
| | | |
| --- | --- | --- |
| Ashtabula | Cuyahoga | Geauga |
| Lake | Lorain | Medina |
| Portage | Summit | Trumbull |
The Illuminating Company serves these cities:
Shop for the Illuminating Company electricity suppliers in your area.
18 Month Fixed Rate
18 Month Home Natural Gas Plan
$0.60 per ccf
$0.00 MRC
The 'MRC' or 'Monthly Recurring Charge' is a fee that the provider will add to each of your bills in addition to the gas usage charges.

12 Month Fixed Rate
$0.56 per ccf
$0.00 MRC
The 'MRC' or 'Monthly Recurring Charge' is a fee that the provider will add to each of your bills in addition to the gas usage charges.

12 Month Fixed Rate
$0.49 per ccf
$0.00 MRC
The 'MRC' or 'Monthly Recurring Charge' is a fee that the provider will add to each of your bills in addition to the gas usage charges.

Compare the Illuminating Company Electricity Rates
Compare alternative supplier electricity rates
in the Illuminating Company service area.
Enter zip code.
Select energy type.
Choose "residential" or "business".
Click "Shop for Rates".
You'll then get to see the listing of all the energy suppliers' plans available in your area, along with rates, term lengths, and links to more detail information.
Some Ohio utilities service territories overlap in some counties. If the tool reports that it has found more than one serving your zip code, don't worry! Just choose your local utility from those listed.
How to Start New Illuminating Company Service
Starting electricity service with CEI is fast and easy. Just visit the FirstEnergy web site and simply fill in the online Start Service form.
Start requests take at least 2 days to process. If your service is delayed longer than 2 days, the utility is required to to provide reasons in writing.
Customers should call the utility's Contact Center if they need their service turned on sooner.
Be ready to supply:
Service Address: The address where you want your service turned on or switched.
The start date for electricity service.
Personal Information: You will need your name, phone number, email address, and your Social Security Number. These will be required.
Unfrozen Credit: If you have frozen your credit with any of the major credit agencies, you will need to have it temporarily unfrozen. The utility will do a soft credit check to determine if a deposit is required.
Will I Need to Pay a Deposit?
Ohio utilities check your credit worthiness before setting up an account and to determine whether you will need to pay a deposit. To qualify, you'll need one of the following:
Have a prior account within the last two years with no more than two late payments or with no previous service disconnected within the last twelve months.
Be a credit-worthy property owner. It helps to know your credit score ahead of time.
Have a guarantor who is a customer with the utility company and can pay your bills within 60 days if you fail to do so
Ohio utility deposits can be no more the customer's estimated average 30-day bill plus 30%.
Understand the Illuminating Company Distribution and Supply Charges
Your electric bill is composed of the electricity Distribution charges and the Supply charges.
Distribution Charges consists of a flat customer charge per account and a distribution charge in cents per kWh for delivering electricity across the utility's local grid to a customer's home. All CEI's residential customers pay the same distribution rate no matter who supplies their electricity. PUCO regulates distribution charges and these rates usually last several years before being reviewed.
Electricity Supply Charges represent the cost for the electricity supplied in kWh by your utility or a retail supplier. Energy Choice charges from "alternative" or retail suppliers are listed on your bill under "Charges from Electric Generation Supplier".
What is the Illuminating Company Price to Compare?
CEI's Price to Compare (PTC) is a PUCO-approved default rate for electricity generation supply if you don't want to shop for retail supplier. The rate is a pass-through and represents the actual price CEI pays for the electricity.
Because rates are determined during periodic auctions, CEI's PTC rate only lasts for a few months at a time and not for a full year. That means you might pay low prices in some months, higher in others.
The Illuminating Company Current PTC Rate
Residential: 12.400 cents per kWh
Expiration date: 9/30/2023
Which Costs More? The Illuminating Company PTC vs Energy Choice
PUCO estimates that the average Ohio monthly usage rate is 750 kWh. Therefore, an average PTC bill roughly breaks down like this:
| | | | |
| --- | --- | --- | --- |
| | Rate per 750 kWh Used | Monthly Customer Charge | Total |
| PTC Supply Rate | 12.400 cents | 0 | $93.00 |
| Monthly Distribution Charges | $0.029510 | $4.00 | $26.13 |
| Total Bill | | | $119.13 |
NOTE: Some Ohio municipal utilities purchase power for their local residents. Usually residents need to pay an opt-out fee if they don't want their electricity service to be aggregated. Check with your local government to learn how you might be effected.
Understand Ohio Energy Choice
Ohio's electricity customers are free to choose a state certified retail electricity supplier. There are many different providers in the Illuminating Company service area, offering a huge variety of plans at competitive rates.
Certified retail suppliers compete with each to buy cheap electricity on the wholesale markets so they can attract more consumers the lowest rates. That way, residents can compare and shop to find the best deal that best suits for their needs. For this reason, Ohio retail electricity supplier rates are not controlled by PUCO. While shopping for electricity may seem confusing, customers can use their utility's PTC to compare offers by certified retail electricity suppliers. This way you can more easily judge which are the cheapest rates.
Shopping for the right electricity plan at the right rate is generally a straightforward process. But not everyone has the same needs. That's why retail electricity suppliers in Ohio offer two types of plans:
Fixed Electricity Rates are just plans where the price rate for the electricity doesn't change over the term of the contract. Different retail suppliers offer term plans from 6 to 36 months, meaning customers can count on stability and predictable monthly bills for months or years, depending on their preferences. However, early cancellation fees for breaking a contract could apply.
Variable Rates Don't want to commit to an electricity plan for months or years? You can choose a variable plan. Variable plan rates on these contracts can change from month to month depending on the price of electricity. So your rate could go up one month or down the next. However, these plans don't have any termination fees and this allows customers the flexibility to shop for new rates and switch to better deals without paying any penalty.
Understand Your Illuminating Company Electric Usage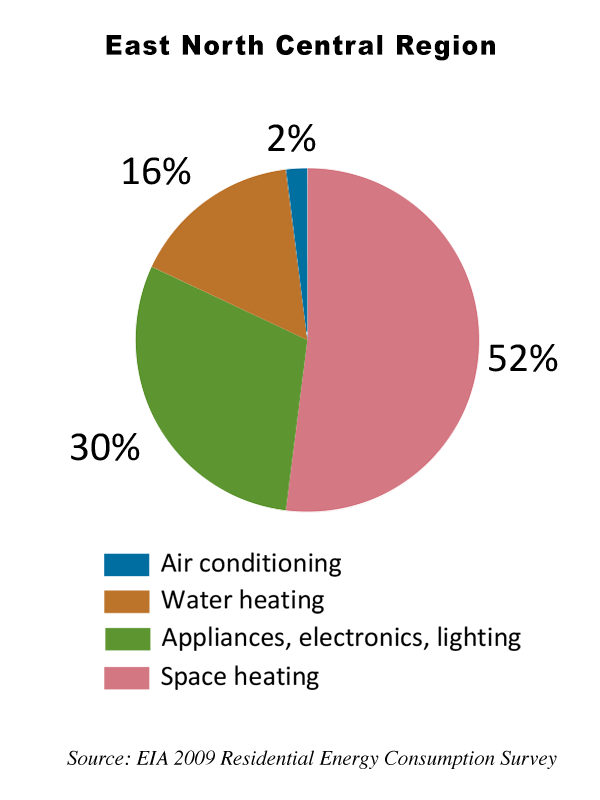 While your electricity usage habits are unique to you, any Ohio native will tell you that winters can be bitterly cold and summers can be oppressively humid and hot.
Average Annual Usage Breakdown
Nearly one-fourth (24.3%) of Ohio homes use electricity for space heating.
60% of homes in the East North Central region of the U.S. have air conditioning. In Ohio, residents use an average of 6% to 12% of their total annual energy costs for air conditioning.
The remainder of eletricity use goes to refrigeration, lighting, electronics, clothes dryers, and small appliances.
Not sure how much electricity you really use?
CEI customers can request up to 24 months of their electric usage plus other relevant information free of charge.
The best way to cut your electricity bill is to reduce your usage:
Seal your doors and windows against winter and summer drafts. Not only does it keep out the cold or hot air but it also reduces the amount of mold, pollen, and other allergens getting into your home.
Add insulation to your attic, basement, and duct work.
Install a programmable or smart thermostat. Programming it to set-back the temperature when you're away or inactive can improve your home's energy efficiency and help cut your electric bills.
Your utility company can provide a wealth of resources and offers programs to help you improve your home's energy performance.
Understanding Your Illuminating Company Bill
Your CEI bill comes packed full with lots of information. Though these can be confusing to customers, they also help you better understand your usage and rate. Here is where we break down the most important items on a sample Illuminating Company electric bill.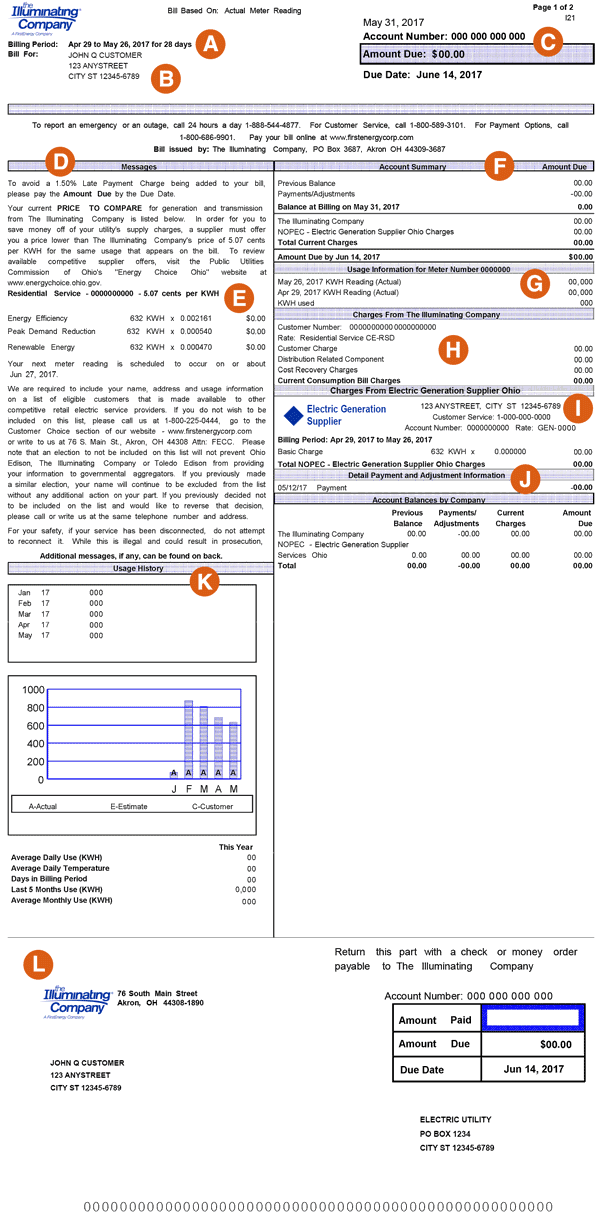 A, B, & C: Bill Overview. It includes your address and personal account number, the billing period, the amount due, and the date that the bill is due.



D & E: Messages and current PTC rate. Here you find important notifications from the company as well as current Price to Compare rate.



F: Account Summary shows the amounts of any unpaid balances, current distribution charges, current supply charges, the total bill and the due date.



G: Meter Summary: This shows the usage information measured by the electric meter at your address.



H: Charges listed the utility here include the type of rate you are being charged, the monthly customer charge, the distribution charges, and the total.



I: Charges from Electric Generation Supplier show the name and address of your electricity supplier, their base rate charged, and the total supplier charges due.



J: Account Balances by Company lays out the amounts that have been paid or are owed to your utility and your supplier.



K: Shows your usage history per bill over the course of the past year to help you compare your energy use over time and understand trends.



L: Payment Stub. Just detach and return with your payment. It also includes your account number, amount paid, amount due, and the due date.
The Illuminating Company Coupons, Energy Promotions, Discounts, Rebates and Promo Codes
As your local utility, CEI offers few options and discounts available to help its customers save some money. Some programs offer money-saving incentives while others could make paying your monthly bills easier and may even help you qualify for a discounted electricity rate.
| | | |
| --- | --- | --- |
| Program Name | Program Type | Benefit |
| Nissan Leaf Incentives | Electric Vehicle Rebates and Incentives | Rebate of $6,000 off the price of new Nissan Leaf electric vehicle. |
| Home Energy Analyzer | Residential | Learn more about your household energy use and identify ways to improve efficiency and reduce your bills. |
| Community Connections Program | Residential | An in-home energy use evaluation to help you reduce your electric bill and keep your home more comfortable in both winter and summer. |
| Percentage of Income Payment Plan Plus (PIPP Plus) | Bill payment assistance | Helps eligible Ohioans manage their energy bills year- round. Payments are based on a percentage of household income and are consistent year-round. |
| Home Energy Assistance Program (HEAP) | Bill payment assistance | Federal grant to help pay your winter heating bills. |
| Ohio Fuel Fund Grant Program | Bill payment assistance | Provides families up to $300 during financial emergencies. |
| Military Deferred Payment Program | Bill payment assistance | Active military families may elect to defer paying either all or a part of their monthly electric bill. |
| Equal Payment Plan | Residential | You are billed one-twelfth of your annual estimated usage each month. This averages out a year's worth of electricity use and helps you pay a consistent amount each month. |
| Extended Due Date | Residential Senior Citizen | If you are over age 60 and receiving social security, you may also qualify for an extended due date to help you avoid falling behind on payments. |
Note: In compliance with the Order from the Public Utility Commission of Ohio, FirstEnergy's Ohio Utilities ended all energy efficiency programs on September 30, 2020.
The Illuminating Company Reviews
Because CEI serves a large-segment market, knowing how well it ranks among other similar-sized utilities can tell you a lot about how well it serves its customers. While the Illuminating Company is not accredited with the BBB, it was well-rated in J.D. Power's 2021 utility residential customer satisfaction study. The utility also rated well in Escalent's 2021 Utility Trusted Brand & Customer Engagement™: Residential study.
OH Energy Ratings Score
Better Business Bureau
J.D. Power 2021 Electricity Utility Study
Escalent 2021 Utility Study
N/A
Not Accredited
717
of 1000 pts
693
of 1000 pts
How do I get the Cheapest Illuminating Company Rate?
Shopping for a new Energy Choice Plan can feel confusing when you first start. But for the most part it's a straightforward process. To begin, there are 3 things you should have with you when you shop for electricity:
Your current bill. Your past usage per billing period can help you estimate a how much a plan might cost you each month.
The current Illuminating Company PTC rate and expiration date. You can use the Illuminating Company PTC to quickly compare retail supplier offers to shop for a better electricity rate. You can choose the PTC rate but remember that changes seasonally.
Your utility account number. This is found on your current utility bill. You'll need to know this number when you choose a plan and sign up for it.
Before you start shopping, there's some final last details you also need to understand ahead of time:
Who bills me? the Illuminating Company sends a single bill that outlines and add up your monthly charges.
What are the Terms of Service? The Terms of Service explain and identify specific charges and any fees a customer will face when they sign up for an electricity plan. Many suppliers offer different rates for plans with different term lengths. All Ohio electricity customers should read and understand the terms of service and contract summary for any plan they are interested in before they sign on to the plan.
What are early termination fees? Switching retail suppliers before a contract ends can involve paying early termination fees. These can bite you if you want to switch retail providers before your electricity plan contract ends.
Compare Ohio Electricity Rates in Your Area
Electricity Out? Wires Down? Here's who you contact
Having a problem with your electricity service? Here's the proper people to call:
Unpaid Bill? - If you have trouble paying your monthly bill call the Illuminating Company's Customer Service: 1-800-589-3101.
In the Dark? - You have 3 convenient ways to report outages or downed powerlines in your area:
Call 1-888-LIGHTSS (1-888-544-4877)
Text OUT to 544487 (LIGHTS)
All power transmission lines are extremely dangerous! Never attempt to move a downed power line by yourself. Call 911 and then notifiy the Illuminating Company!
What!? There's still no power?
You can track outage repairs throughout the Illuminating Company service area on this map.
Latest Cleveland Electric Illuminating News
Declare Your Independence with the Best Electric Rate in Cleveland
Free Yourself From High Electricity Rates in ClevelandWith temperatures rising, energy rates rising, and inflation kicking us all when we're down, we all want to save money. Spark a revolution over your Cleveland electricity rates and shop now!Sure, The Illuminating Company's Price to C...
St. Patrick's Best Irish Pubs in Cleveland
Find The Best Pub For A Night On The TownEveryone's Irish on Saint Patrick's Day! Check out our picks for food and fun at the best Irish pubs in Cleveland!It's almost St. Patrick's Day! Whether you're Irish, or just like a good beer, it's the best night to go out and find good food...
When Did Your Cleveland Electricity Plan Expire?
How Much Did Not Switching Cost You?Believe or not, but your expired Cleveland electricity plan could be costing you more each month. Find out how shopping for a new rate could save you money!So, you didn't switch your plan when it expired back at the start of October? We know adulting su...
The Illuminating Company Service Area Electricity Providers
Zip Codes with the Cheapest Electricity Rates in the Illuminating Company Territory