12 Month Fixed Rate
Fixed-Rate Electricity 12
42.3%
under utility rate

Compared to the current AEP - Ohio Power Company rate of

10.9100¢ / kwh
6.29¢ per kwh
$0.00 MRC
The 'MRC' or 'Monthly Recurring Charge' is a fee that the provider will add to each of your bills in addition to the electric usage charges.

12 Month Fixed Rate
OH Frontier Online Premier-12
36.8%
under utility rate

Compared to the current AEP - Ohio Power Company rate of

10.9100¢ / kwh
6.89¢ per kwh
$0.00 MRC
The 'MRC' or 'Monthly Recurring Charge' is a fee that the provider will add to each of your bills in addition to the electric usage charges.

12 Month Fixed Rate
Fixed-Rate Electricity 12
42.3%
under utility rate

Compared to the current AEP - Ohio Power Company rate of

10.9100¢ / kwh
6.29¢ per kwh
$0.00 MRC
The 'MRC' or 'Monthly Recurring Charge' is a fee that the provider will add to each of your bills in addition to the electric usage charges.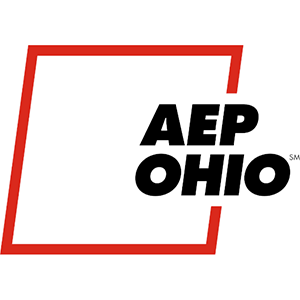 AEP Ohio History
In 1906, the American Gas & Electric (AG&E) Company formed to take over 23 smaller electric utilities held by the financially troubled Electric Company of America. Two of these utilities were located in Ohio. One of them was Canton Light, Heat, & Power Company.
AG&E planned to expand Canton Light, Heat, & Power Company very quickly. In April, 1907, it merged with Central Heating & Lighting Co. and the Merchants' Heat, Light, & Power to form the Canton Electric Company. In September, 1917, the Canton Electric merged with the Ohio Light & Power Company to become the Central Power Company. When three more companies were absorbed in in 1919, the company reformed into the Ohio Power Company. By 1928, the Ohio Power Company had swallowed up 24 more companies and served 350 Ohio cities and towns. One town that it did not serve was Columbus.
Electricity service in Columbus had long hung on the wires of interurban and street railways that generated electricity to power their engines and trolleys. The Columbus Consolidated Street Railway began operations in 1891 and soon brought together all the other trolley companies in the Columbus Street Railway Company. When it acquired a small, local electric utility, the company changed its name to the Columbus Railway & Light Company. By 1903, the company reorganized into a holding company called the Columbus Railway Power & Light Company (CRP&L) and acquired both the Columbus Railway and the Columbus Edison electric utility. This made it a very attractive fish to larger multi-state utility holding companies.
In 1924, the giant Continental Gas & Electric Company (CG&E) not only bought CRP&L but consummated a huge merger deal to fold CG&E into the mammoth United Power & Light Company street railway operations. A decade later, under growing scrutiny from the Public Utility Holding Company Act, CRP&L was consolidated with Southern Ohio Electric Company and Adams County Power & Light to become the Columbus & Southern Ohio Electric Company (C&SOE).
The end of World War II brought a period of expansion and innovation to both AG&E and C&SOE. On the AG&E side of things, the company expanded its grid and increased its generation output, becoming one of the first companies to lobby for the right to build nuclear power plants. In 1958, AG&E changed its name to American Electric Power Company (AEP). Over in Columbus, a court order under the Public Utility Holding Company act, forced C&SOE to divest its transit properties and operate solely as an electric utility. By 1949, C&SOE was supplying more and more Ohio customers with electricity.
Through the 1950s into the 1960s, both companies worked to balance increasing demand for electricity by building new power plants with increasing demand for environmental responsibility by adding scrubbers to coal plant smokestacks and protecting water supplies. In 1968, AEP proposed to acquire C&SOE but changing conditions in the electric utility industry continually delayed the deal for years until it finally went through in 1980.
As a result, AEP moved its headquarters to Columbus, then the largest city it served. From there, AEP has since grown to 7 utilities to provide reliable power to customers in Arkansas, Indiana, Kentucky, Louisiana, Michigan, Ohio, Oklahoma, Tennessee, Texas, Virginia and West Virginia.
For Ohio customers, both Columbus Southern and Ohio Power initially operated as separate utilities. That changed in 2014 when Columbus Southern was fully merged into Ohio Power. As a result, the two utilities are now jointly managed under the name "AEP Ohio" as two rate zones; Columbus Southern Power and Ohio Power. Their generation supply and distribution rates, however, are the same.
AEP not only provides energy to its customers but also helps sustain the communities where they live by contributing to education, promoting environmental sustainability, and assisting with food and housing. AEP Ohio alone has funded more than 70 organizations across Ohio to support education, health, culture and basic human need.
AEP Ohio Service Territory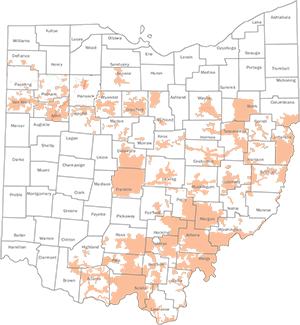 From its headquarters in Gehanna, OH, AEP Ohio and Columbus Southern services about 1.5 million customers in some or all of these central and southeastern Ohio counties.
| | | | | | | | |
| --- | --- | --- | --- | --- | --- | --- | --- |
| Adams | Allen | Carroll | Columbiana | Coshocton | Crawford | Darke | Defiance |
| Delaware | Fairfield | Fayette | Franklin | Gallia | Guernsey | Hancock | Hardin |
| Harrison | Henry | Highland | Hocking | Holmes | Jackson | Jefferson | Knox |
| Lawrence | Licking | Marion | Meigs | Monroe | Morgan | Morrow | Muskingum |
| Noble | Paulding | Perry | Pickaway | Pike | Putnam | Richland | Ross |
| Sandusky | Scioto | Seneca | Stark | Tuscarawas | Van Wert | Vinton | Washington |
| Wayne | Wood | Wyandot | | | | | |
AEP Ohio serves these cities:
Shop for AEP Ohio Electricity Suppliers In Your Area.
12 Month Fixed Rate
Fixed-Rate Electricity 12
42.3%
under utility rate

Compared to the current AEP - Ohio Power Company rate of

10.9100¢ / kwh
6.29¢ per kwh
$0.00 MRC
The 'MRC' or 'Monthly Recurring Charge' is a fee that the provider will add to each of your bills in addition to the electric usage charges.

12 Month Fixed Rate
OH Frontier Online Premier-12
36.8%
under utility rate

Compared to the current AEP - Ohio Power Company rate of

10.9100¢ / kwh
6.89¢ per kwh
$0.00 MRC
The 'MRC' or 'Monthly Recurring Charge' is a fee that the provider will add to each of your bills in addition to the electric usage charges.

12 Month Fixed Rate
Fixed-Rate Electricity 12
42.3%
under utility rate

Compared to the current AEP - Ohio Power Company rate of

10.9100¢ / kwh
6.29¢ per kwh
$0.00 MRC
The 'MRC' or 'Monthly Recurring Charge' is a fee that the provider will add to each of your bills in addition to the electric usage charges.

Compare AEP Ohio Electricity Rates
Compare alternative supplier electricity rates
in the AEP Ohio service area.
Enter zip code.
Select "electricity".
Choose "residential" or "business".
Click "Shop for Rates".
In Ohio, electricity utility service territories often overlap. If the tool reports that it has found more than one serving your zip code, don't worry! Just choose your local utility from those listed.
You'll then get to see the listing of all the energy suppliers' plans available in your area, along with rates, term lengths, and links to more detailed information.
How to Start New AEP Ohio Service
Start your new AEP Ohio service by using their convenient secure online form to schedule the start date for your electricity services. You can register for online account management services at this time, too. Or you can call AEP Ohio customer service at 1-800-672-2231.
You will also need to provide at least:
The address you are moving to
The address you are moving from (and a mailing address, if this is not the same)
Date service should commence
Your date of birth
Driver's license number
Social security number
Phone number or other contact information
Spouse or roommate's information
Once AEP Ohio receives the service request, it can take 3 business days to complete your request.
Will I Need to Pay a Deposit?
AEP checks your credit worthiness before setting up an account. To determine whether you will need to pay a deposit, they conduct a credit check using your Social Security number. If AEP Ohio is unable to verify your identity, you may need to fill out their supplementary identity check form.
TIP -- Be sure to unfreeze your credit. If you have frozen your credit with any of the major credit agencies, you will need to temporarily unfreeze it before you submit a new service request.
If AEP Ohio's credit inquiry is unsuccessful, you can establish creditworthiness through one of these methods:
You must prove you are the property owner or that you meet legally-accepted practices to verify credit.
You have had a prior account with AEP for the same class of service within the past two years. During that prior service period, you must show that you did not have a late bill more than twice and were not disconnected for nonpayment, fraud, or tampering.
You have a guarantor who is also an AEP Ohio customer who can pay your bills within 60 days if you fail to do so.
Ohio utilities are limited in the amount they can charge for a deposit. Customer deposits can be no more than the estimated average 30-day bill plus 30%.
Understand AEP Ohio Power and AEP Columbus Southern Delivery and Supply Charges
In Ohio, residential customers pay for both the cost to deliver their electricity as well as for the amount of electricity that they use.
Delivery Charges are fixed rate charges (tariffs) representing the cost of distributing electricity to your home via AEP Ohio's power grid network. The charges cover AEP Ohio's local infrastructure operating costs, maintenance, and ensure them a profit. Other usage-based charges are small costs from riders to fund projects, cover fees, etc. AEP Ohio's delivery charges must be approved by Public Utilities Commission of Ohio (PUCO). All their customers pay the same set electric delivery rates no matter who provides their generation supply.
Supply Charges represent the price for the amount of energy supply that you use. AEP Ohio customers can choose the "Price to Compare" (PTC) for their electricity supply. However, because of Ohio's Energy Choice program, customers are also free to choose a competitive retail electricity supplier to supply their electricity.
What's the Difference Between AEP Ohio and AEP Columbus Southern?
AEP Ohio manages two utility rate zones in Ohio; AEP Ohio Power and AEP Columbus Southern. Because these two utilites are jointly managed by AEP Ohio, its residential customers pay the same rates for delivery and PTC supply charges.
Understand AEP Ohio Power and AEP Columbus Southern PTC Charges
PUCO requires AEP Ohio to provide electricity supply at a default rate to its customers who don't shop for a retail supplier. AEP Ohio's PTC supply rate represents the generation supply costs that are passed without mark up directly through the utility onto their customers. Consequently, the PTC default rate is overseen by PUCO..
About The Price to Compare (PTC)
The PTC default rate not only includes the price to generate the electricity but also the cost to transmit it from power stations over high tension power lines to AEP Ohio's local electrical switch yards. From there, the electricity is distributed throughout the AEP Ohio local electrical grid for delivery to homes.
Ohio utilities determine their PTC rates during periodic auctions for set periods of the year. As a result, PTC rates typically only last for a few months. While utilities set their own auction schedule, this means these electricity rates can vary seasonally; low some months, higher the next.
AEP Ohio Current PTC Residential Rate: 10.910 cents per kWh, expires 3/31/2024
NOTE: Some Ohio municipal utilities purchase energy for their local residents. Usually residents need to pay an opt-out fee if they don't want their electricity service to be aggregated. Check with your local government to learn how you might be effected.
How Much Do AEP Ohio Power and AEP Columbus Southern PTC Charges Cost?
The AEP Ohio PTC rate (which covers both AEP Ohio Power and AEP Columbus Southern) changes periodically during the year. That makes it important for consumers to know and understand how much they are paying for their electricity in any one month and what they can expect to pay in the future.
How much is the AEP Ohio PTC rate?
PUCO estimates that the average Ohio residence uses an average of 750 kWh each month. Therefore, an average PTC bill roughly breaks down like this:
| | | | |
| --- | --- | --- | --- |
| | Rate per 750 kWh Used | Monthly Customer Charge | Total |
| PTC Supply Rate | 10.910 cents | 0 | $81.83 |
| Monthly Distribution Charges (excluding riders) | $0.031482 per kWh | $6.00 | $29.61 |
| Total Bill | | | $111.44 |
Understand Ohio Energy Choice
Ohio electric consumers are free to choose their own competitive retail electricity supplier. These alternative suppliers shop deals with different producers on the wholesale market to offer competitive rates through the year. As such, their rates are not controlled by PUCO the same way that Ohio utilities are. This way, retail suppliers are able to offer competitively priced fixed rate plans for a variety of term lengths.
Though it can seem confusing, shopping electricity plans is an easy process. The trick lies in finding the one that meets your needs. That's why retail energy suppliers in Ohio offer two types of plans:
Fixed Rates have their price rate set for the same price over the term of the contract. Customers can count on stable energy rates on plans lasting from 6 to 36 months. However, many fixed rate plans come with early cancellation fees for breaking a contract early.
Variable Rates Want to avoid getting tied to an electricity plan for months or years? Then choose a variable plan. Variable plan rates on these contracts can change from month to month depending on the price of the electricity supply. But while there's no contract, there's nothing to prevent your rate from going up one month or down the next. However, these plans don't have any termination fees and this allows customers the flexibility to shop for new rates and switch to better deals without paying any penalty.
Understand Your Energy Usage and Your AEP Ohio Bill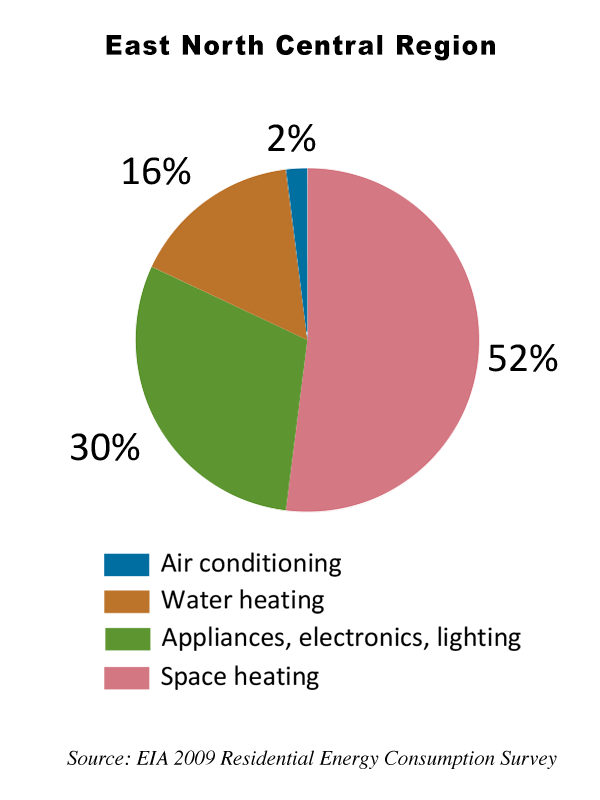 While your energy usage habits are unique to you, as any Ohio native can tell you, summers can be hot and muggy and winters bitterly cold. In the east north-central region of the U.S., up to 55% of an average home's energy usage goes to space heating.
Though nearly one-fourth (24.3%) of Ohio homes use electricity for space heating, natural gas warms 65% of homes in the state.
Ohio residents use an average of 6% to 12% of their total annual energy costs for air conditioning.
The remainder of energy use goes to water heating, refrigeration, lighting, electronics, clothes dryers, cooking, and small appliances.
Want to learn more about your home energy usage? AEP Ohio customers can request up to 24 months of their electric usage plus other relevant information free of charge.
The best way to cut your electricity bill is to reduce your usage:
Seal your doors and windows against winter and summer drafts. Not only does it keep out the cold or hot air but it also reduces the amount of mold, pollen, and other allergens getting into your home.
Add insulation to your attic, basement, and duct work.
Install a programmable or smart thermostat. Programming it to set-back the temperature when you're away or inactive can improve your home's energy efficiency and help cut your electric bills.
Your utility company can provide a wealth of resources and offers programs to help you improve your home's energy performance.
Understand Your AEP Ohio Bill
Your AEP Ohio bill comes packed full with lots of information. Though these can be confusing to customers, they also help you better understand your usage and rate. Below, we break down the most important items on a sample AEP Ohio Electric bill.
AEP Ohio Sample Bill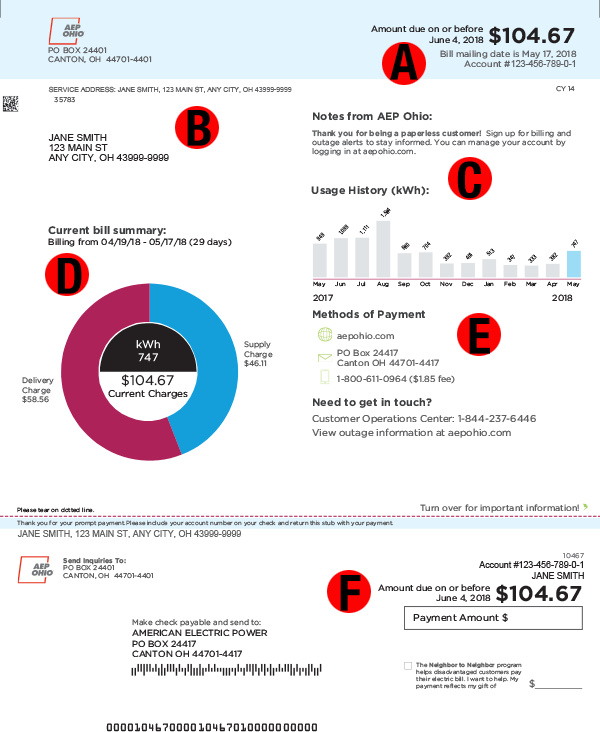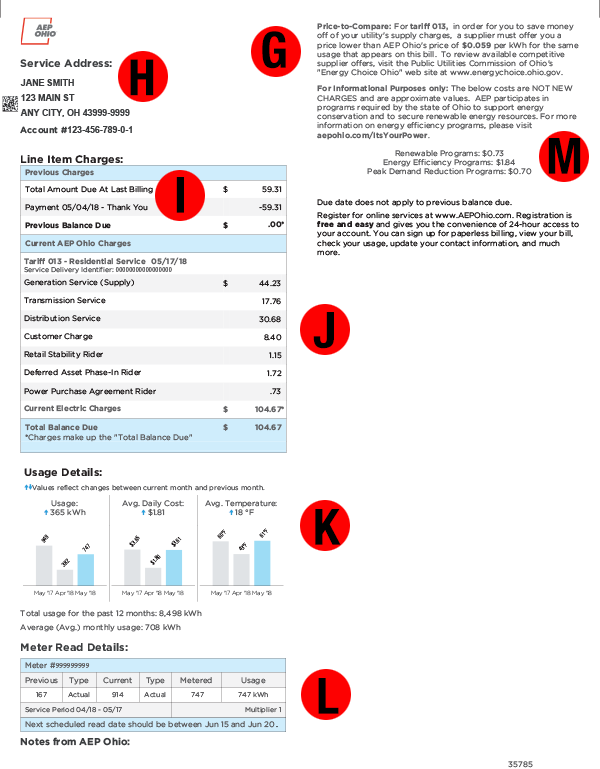 A: The section shows the address to mail payments to, as well as the the bill due date, the amount due, the date the bill was mailed to you, and your 11-digit account number.



B: This account profile shows your account info, service address, and including contact informantion for your AEP Ohio Account.



C: Here you can see messages from AEP Ohio. Below, there's a graph of your monthly usage in kWh over the past year.



D: This section shows the period of service covered in the bill. The circle graph shows your current electric usage in kWh. It also shows how much of your bill comes from distribution charges and genration supply charges.



E: Here you'll find a listing of ways you can pay your AEP Ohio bill: on line, by mail, or phone.



F: This is the detatchable mail-in payment stub. It displays important account payment information such as your 11-digit account number, the due date of the bill, the amount due, the address for the service, and where to mail your payment.



G: This third page of your bill explains the current AEP Ohio Price to Compare (generation supply) rate.



H: This section displays the name of the account, the service address, and the account number.



I: Here is the record of your previous balance due, the payments made, and any subsequent balances due.



J: The explanation of current electricity charges breaks down what goes into your electric bill. It includes the AEP delivery charges --complete with a breakdown of fees and riders -- and your supplier charges.



K: A break down of your usage history which shows a comparison of your electricity usage for the past two months, as well as the average daily costs, and temparature. You can also see your total usage in kWh for the year and the average monthly usage.



L: This shows meter read details, including the meter's number, the date the meter was read, the amounts, and the dates of the next reading.



M: This section disclosed the costs of renewable energy programs that AEP Ohio participated in. However, these programs ended in September, 2020.



AEP Coupons, Energy Promotions, Discounts, Rebates and Promo Codes
As your local electric utility, AEP offers several rebate and energy efficiency programs to help customers save money on their monthly bill by upgrading their home's energy performance. Some programs also offer money-saving incentives while others could make paying your monthly bills much easier during those expensive winter months.
Program Name
Program Type
Benefit
Payment Extension Program
Bill payment assistance

One-time payment extension gives you a little more time to make your bill payment. Call AEP Ohio Customer Service or log in to your AEP Ohio account to apply.

Home Weatherization Assistance Program (HWAP)
Residential Energy Efficiency
Ohio Development Services Agency program for eligible homeowners and renters whose income does not exceed 300% of the poverty guidelines of the Federal Poverty Guidelines may receive energy efficiency improvements to their homes at NO COST:

Energy audit to determine improvements.
Upgrading insulation.
Installing a new natural gas furnace.


PUCO Winter Reconnect Order
Bill payment assistance

Starting October 5, if your service has been shut off for non-payment or you have a shutoff notice, you can maintain or restore service for just $175 plus a reconnection fee - no matter how much you owe. Call AEP Customer Service.

Home Energy Assistance Program (HEAP)
Bill payment assistance

Federal grant to help pay your winter heating bills.To qualify for HEAP, your annual household income cannot exceed 175% of the poverty guidelines.

Winter Crisis Program
Bill payment assistance

Runs from November 1, 2020 to May 1, 2021 for customers whose service is shut off for non-payment or have received a shutoff notice.
Customers who meet income eligibility requirements can receive a grant. Contact your local Energy Assistance Provider.

Percentage of Income Payment Plan Plus (PIPP Plus)
Bill payment assistance

Helps eligible Ohioans manage their energy bills year-round. Payments are based on a percentage of household income and are consistent year-round. To qualify your annual household income cannot exceed 150% of the federal poverty guidelines.

Neighbor to Neighbor Program
Bill payment assistance

Administered by Dollar Energy Fund, AEP Ohio matches contributions dollar-for-dollar to provide grants of up to $350 seniors and families who struggle to pay their Ohio electric bills.

AEP Ohio Payment Plan
Bill payment assistance

AEP Ohio offers several payment plans:

Pay a past due balance evenly over a specified time period, while continuing to pay new charges
Initial partial payment will be required when the plan is established.
Apply by contacting AEP Ohio Customer Service or by logging into your account.
AEP Ohio Reviews
Since AEP Ohio serves such a significantly large Ohio market segment, residential customers can get a better picture of how good a job it does by comparing it to similar large-scale utilities. AEP Ohio is not accredited with the BBB and was well-rated in J.D. Power's 2021 utility residential customer satisfaction study. The utility also rated well in Escalent's 2021 Utility Trusted Brand & Customer Engagement™: Residential study.
OH Energy Ratings Score
Better Business Bureau
J.D. Power 2021 Electricity Utility Study
Escalent 2021 Utility Study
N/A
Not Accredited
764
of 1000 pts
692
of 1000 pts
How Do I Get the Cheapest AEP Ohio?
Shopping for a new AEP Ohio Power or AEP Columbus Southern Choice Plan can seem bewildering at first. Once you understand how it works, though, it's an easy and straightforward process. That said, you should have these three things with you when you shop for electricity.
Your current bill. Your past usage per billing period can help you estimate a how much a plan might cost you each month.
The current AEP PTC and expiration date. Knowing the current AEP Ohio supply price lets you compare rates offered by retail energy suppliers. This way, you can get a better feel for what suppliers are offering, for how long, and if any of their incentives make their price work out for your family.
Your AEP Ohio of Ohio customer account number. This 11 digit number is located on your bill. Having it handy lets you sign up with a retail supplier right away.
AEP Ohio Shopping Questions
Savvy customers know that when they ask the right questions they'll learn how they can save money or avoid making a bad choice. When you shop for electricity service in Ohio, always be sure to ask these important questions:
Is the rate competitive with the current AEP Ohio Power or AEP Columbus Southern PTC rate?
Is the rate variable or is it fixed?
How long does the plan last?
What happens when the contract expires?
Does the plan have any recurring monthly charges?
Does the plan come with an early cancellation fee?
Does the supplier offer any customer incentives or rewards?
Other Common Ohio Electricity Questions:
Who bills me? AEP Ohio sends a single bill that outlines and adds up your monthly charges.
What are the Terms of Service? Energy Choice Plans have Terms of Service that explain and identify specific charges and any fees a customer will face when they sign up for an electricity plan. Not all suppliers have the same terms. That's why all Ohio energy choice customers should read and understand the terms of service and contract summary for any plan they are interested in before they sign on to the plan.
What are early termination fees? Switching retail suppliers before a contract ends can involve paying early termination fees. These can take a chomp out of your checking account you if you want to switch retail providers before your plan contract ends.
Where can I find more information on my usage? AEP customers can request up to 24 months of their energy usage plus other relevant information free of charge.
Compare Electricity in Your Area
Electricity Service Out? Contact AEP Ohio!
Having problems or interruptions with your AEP Ohio electricity? Here's the proper people to call:
Billing problems? - If you have trouble paying your monthly bill call AEP Ohio's Customer Service: 1-800-672-2231
Need extra time to pay your energy bill? Contact AEP Ohio. Cusotmers can request an extension when you only need a week or two. Call Customer Service or apply on-line.
Emergencies and Outages
For all emergencies, call 911 immediately!
All power transmission lines are extremely dangerous! Never attempt to move a downed power line by yourself.
Report safety hazards immediately to AEP Customer Solutions center at 1-800-277-2177.

You can follow AEP Ohio's current electric outages as they are being repaired.
Latest AEP Ohio Power Company News
Which Appliance Raises My AEP Ohio Bill?
How To Track Your Appliance Energy UsageIt costs THAT much to use?Let us save you time and energy finding the best electricity monitoring gadget for your biggest appliance! We run down your best options to help you cut your AEP Bill!Appliances are big, heavy, and necessary. They also use a...
New Auctions To Save AES Dayton Energy Customers Money?
Will New Auctions Cost You More?AES Ohio has asked PUCO to hold multiple generator supply auctions during the year. Find out if Dayton electric customers will save money and ways to save when PTC rates change.AES Ohio holds it electricity supply auctions once a year auction. But that may s...
HB6 Shadow Still Darkens Ohio's Electric Rates
Effects From HB6 Could Cost You More Than You ThinkWhen AEP shut off power to many Ohioans, it did so to protect its grid. Learn how the lingering shadow of HB6 may have contributed to the problem and what it's still costing you.June 13th's major thunderstorm that steamrolled Ohio homes l...
AEP Ohio Service Area Providers
Ohio Zip Codes with the Cheapest Electricity Rates