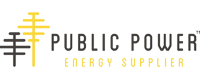 Public Power Resources

Public Power, a subsidiary of Crius Energy, is a deregulated electricity provider that offers service in Connecticut and Pennsylvania.
---
Most Recent Public Power Reviews
Seamless Order
Easy ordering experience-quick completion and transition to provider

— Easy Order-PP from West Chester OH
electricity
I chose Public Power since it has a stable price for one year. The switchover from eversource was seemless and painless. So far so good with Public Power.

— Daniel Dana from Westbrook CT
Satisfied
I was very satisficed with service.

— Ed from Oakdale CT
4-5 Star Reviews: 19 (41%)
Seamless Order
Easy ordering experience-quick completion and transition to provider
3-4 Star Reviews: 6 (13%)
Just another company
It brags of savings but I haven't seen any.
1-2 Star Reviews: 22 (48%)
You never followed thru with the sign up.
I signed up on line for electric, but you never changed me over. I called a couple of weeks later, because I got an email. There was a number that I was to call. The customer service rep said I would need to call another number on Monday. She could not help me. She said they needed to verify it was me. Why couldn't she do that. After all she is your customer service rep.! She said she would leave them a message. I never called them back and I never got a call, and so, I never got signed up. Why have customer service if they can not help?
Public Power News
Save On the Best 24 Month Electric Rates in Dayton
Sticking to DP&L's PTC rate might seem like a good idea - but not for the long haul. Find a better deal when you shop and save on the best electric rates for 24 month plans! Lower Your Dayton Electricity Bill By Switching & Saving If you're new to Dayton like our friend Dr. E. J. Sky, you...
Cheapest 24 Month Electricity Plans in Dayton
Everyone loves saving money with electricity plans that won't break the bank! Shop and compare these great electric rates apple-to-apples. Cheapest Electricity Rates in Dayton Power & Light Everyone loves amazing deals. Finding that a store has most products half off is a magical feeling. And...
Cheapest 24 Month Electricity Plans In Akron, OH
Shop low shoulder month pricing and lock in the cheapest electricity rate in Akron, OH, before winter arrives! Lock in Cheapest Electricity Plans Fall is an amazing season, from pumpkin spice coffee to halloween decorations. But the best thing about fall  is that it's the energy shoulder seaso...
Public Power FAQs
Where can I order Public Power natural gas?
---
Public Power does not have any natural gas plans
What do customers think about Public Power?
---
That depends on who you ask. There will always be someone who feels wronged by a company, no matter how good they actually are. The average Public Power customer review is 2.9 / 5 stars. Keep in mind, consumers will go out of their way to complain far more often than they will to give praise.