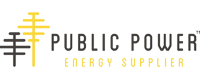 Public Power Resources

Public Power, a subsidiary of Crius Energy, is a deregulated electricity provider that offers service in Connecticut and Pennsylvania.
---
Our Rating of Public Power
4-5 Star Reviews: 32 (50%)
Just another company
It brags of savings but I haven't seen any.
1-2 Star Reviews: 27 (42%)
Havent seen a change
I have not seen the new rates hit my bill yet
Public Power News
The Electric Rate Affair At Middletown
Hastings' Intolerable Electric RateWith apologies to Dame Agatha Christie this April Fool's Day, we follow Capt. Hastings as he puts the case of his intolerable electric rate into the hands of Detective Hercule Poirot!It was with some trepidation, albeit fleeting hope that I came upon the d...
Shop Stable Electric Plans For Uncertain Times
Keep Your Future Flexible While SavingDon't panic about rising energy prices! Shop these stable electric plans and lock in lower electric bills!Saying the "world is a little bit crazy right now" would be the understatement of the decade. Between Covid-19, The Great Resignation, Ohio consum...
Save On the Best 24 Month Electric Rates in Dayton
Sticking to DP&L's PTC rate might seem like a good idea - but not for the long haul. Find a better deal when you shop and save on the best electric rates for 24 month plans! Lower Your Dayton Electricity Bill By Switching & Saving If you're new to Dayton like our friend Dr. E. J. Sky, you...
Public Power FAQs
Where can I order Public Power electricity?

Public Power has electricity plans in Ohio

Where can I order Public Power natural gas?

Public Power does not have any natural gas plans

What do customers think about Public Power?

That depends on who you ask. There will always be someone who feels wronged by a company, no matter how good they actually are. The average Public Power customer review is 3.5 / 5 stars. Keep in mind, consumers will go out of their way to complain far more often than they will to give praise.