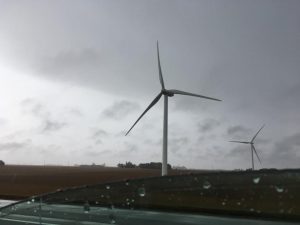 What's the Best Plan for Renewables in Evanston Ohio?
Going with green electricity plans in Ohio to reduce your family's carbon footprint used to cost an arm and a leg. But something incredible is happening! At the end of January, the U.S Energy Information Administration (EIA)  predicted that  renewables will be producing more electricity than nuclear and coal by 2021. With solar and wind installation costs falling in recent years, green electricity plans in Ohio are now more competitive. In fact, future green electricity rates may drop further; enough to make your non-green, older-boomer-relatives green with envy. So, if you want to cut your family's carbon footprint without spending a lot of green going green, check out these three renewable-sourced electricity rates for Evanston, OH.
Cheapest Green Electricity Plan in Evanston
The cheapest green plan available in Evanston, OH, is Xoom Energy SimpleClean 12 plan.  The SimpleClean 12's rate is just above Cincinnati's average electricity rate.  It's 5.69 cents per kWh and $100 cancellation fee leaves it at an average price of other non-green plans, making it highly competitive. Xoom Energy backs up this great eco-conscious plan with their rewards program. You can participate in a daily give away for a $500 Visa gift card. The odds of winning the Visa gift card depends on how many people participate in the daily give away. So you could win it multiple times over the plan, or never win it at all.
Find Duke Edison Ohio Green Electricity Plans
Tomorrow Energy's 12 Month Fixed plan has the highest rate of all the green electricity plans available in the Duke Energy area. Still a competitive rate at 5.98 cents per kWh, the plan includes a $75 cancellation fee. As with many other green electricity plans in Ohio where renewable sourced energy is under development, this plan relies on Renewable Energy Certificates (RECs). However, unlike other electricity suppliers that use electricity from all sort of sources, 100% of Tomorrow Energy's electricity is backed by Wind RECs. In this way, they hope to increase demand for renewable energy.
Compare Ohio Green Energy Plans
Starion Energy EcoGreen Secure 12 has its rate between the other two at 5.79 cents per kWh. Like other green energy plans, it is powered by 100% wind RECs. One great thing is that this plan has no cancellation fee. So customers can leave the plan whenever they want for whatever reason.  Starion also offers one the best rewards program. After being a Starion customer for 6 months, customers can get four $25 monthly shopping rebates. Starion will also hand out one $500 Amazon gift card to each new customer every month. 
Best Electricity Plan Apples to Apples?
While going green is a lot easier on your bank account, the plans being offered can make choosing a green energy plan difficult. So what's the best plan over all? That depends on which offer appeals the most to what your family is looking for. Xoom offers the lowest price and a shot at a daily reward. While Tomorrow Energy offers higher rates, remember that they're 100% renewable energy sourced. That way they do more to create demand to develop more renewable energy. By signing with them you're sort of "joining the movement". Lastly, if you're looking for a combination of low price and great rewards, then Starion probably has the best offer that also include a one time $500 reward. 
While going green got cheaper and the choices are getting tougher, the best place to turn for help is by clicking over to https://www.ohenergyratings.com. Check out reader reviews, compare electricity plans apples to apples plus learn more about electricity rates in the Duke Energy service territory.