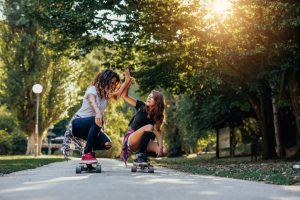 What's The Best Short-Term Electricity Plan For Returning Students?
You've packed your bags, purchased your books, stared down your large-looming student loans, and you're moving in to this great new student house. Now you have to figure out electricity bills. For student renters, dipping your toes into the electricity market can be more aggravating than finding out that you can't use the dishwasher and the toilet at the same time. So, we're here to help narrow down what's the best electricity plan for renters in Columbus!
The Harsh Reality Of The Columbus Electricity Market
Shopping for electricity right now is no picnic. AEP Columbus Southern's rate is up at 5.29 cents per kWh, and every single plan is following behind. With Columbus Southern's rates expected to rise in the next quarter due to natural gas becoming more expensive, the pickings are slim. While the Xoom Energy SureLock6 isn't cheaper than the current market rate at 5.79 cents per kWh, it does lock in its rate for 6 months. This means that you'll avoid any major price spikes during the winter. Xoom also offers Xoom Xtras, which is a rewards program that can provide discounts at online retailers, restaurants, and even tire places. There is a $50 early termination fee and at the end of your term, your contract rolls onto a month-to-month plan if you don't cancel.
Rounding Out Your School Year Electricity Plan
So what's a broke student to do? One option is of course to shop again. This means you'll likely be to lock yourself into another 6 or 12-month plan with an early termination fee. There is another option. While it isn't ideal, your rental term can be rounded out using Provision's Month-To-Month contract, which is typically a little more expensive, but comes with no early termination fee if you have to move out on a weird day. You can also go back onto Columbus Southern's rate. That will depend on where that price is when it comes time to make that decision. Go with whoever's rate is lowest depending on the month to save some money. That way, you might be able to eat something other than ramen until the end of time.
Yet Another Option For Your School Year Electricity Plan
Not loving the uncertainty of that first option? Check out the Tomorrow Energy 12 Month Fixed plan. It's a little cheaper at 5.56 cents per kWh, however, it does come with a $75 early termination fee. This means that you will have to budget early to cover that payment at the end of your school year. But you will lock in a low price for the entirety of the school year.
Shopping Short Term Electricity Can Be Easy
While it might not seem like it right now, shopping for short-term electricity isn't always hard. If you're looking for other options, tips for your new home, or just need to shop around, check out www.ohenergyratings.com