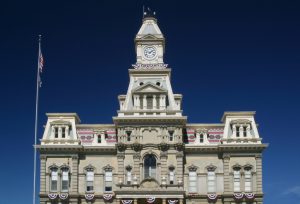 Looking for the lowest energy rates in AEP Zanesville?
OH Energy Ratings has gathered supplier rates for customers to compare side-by-side. The lowest 12-month rate is Direct Energy's Live Brighter 12 Plan.
You can Live Brighter!
In Ohio, Direct Energy is one of the leading energy suppliers. They provide energy to over 4 million customers throughout North America.
The Live Brighter Plan has several advantages over the competition:
A rate of 5.8¢ kWh that is guaranteed for the entire 12 months of the plan.
No cancellation fee.
Over 40% of power supplied via renewable resources. Although not a green plan, this is a significant percentage of renewable power.
The plan has been able to reduce greenhouse gases significantly versus their own projections over the past quarter.
More than just a low rate
The Live Brighter plan is more than just a low electricity rate. The most important feature is that there is no cancellation fee. If you need to move anywhere within the AEP territory within the one year of the contract, you can choose to take Direct Energy with you or simply cancel the contract.
Why choose a 12-month plan?
If you're renting, a 12-month plan is ideal as most leases are one year long. If you start your electricity contract at the beginning of your lease, it will expire when your lease does. Longer plans, like 24 or 36 months, often don't allow you to revisit your electricity rates and get a lower rate. You're locked into the rate that you choose for 2 or 3 years. Since electricity rates have been consistency falling in Ohio, it's worth keeping your options open.
If you choose to stay where you are, you will want to call Direct Energy and renew your contract.
NOTE— When your contract expires, Direct Energy will automatically roll you into their variable rate plan. While doesn't sound too bad, remember that variable rates change monthly. They can fall or they can spike. So as your fixed rate plan nears its end, remember to visit https://www.ohenergyratings.com/electricity-rates to compare new rates and plans!