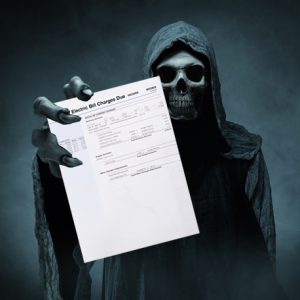 Haunting Rates To Keep Your Evenings Electrifying
Picture this: you walk out to your mailbox. Inside, lurks an item more horrifying than anything you have faced before. The mailbox opens with an eerie creak, revealing the cursed object that lays within. It's your electricity bill! And as you open the envelope with trembling fingers, you recall that you switched from Ohio Edison to a new low rate and relief washes over you! Don't be haunted by the high electricity rate terrors of Ohio Edison's Price To Compare in Youngstown!  You can lock in a low rate that will keep that monster bill at bay.
Beat The PTC With This Rate!
Are you looking for a rate to beat the PTC's 5.05 cents per kWh rate? Check out this one from Public Power! The Electric 13 Month Standard Fixed Rate is just 4.89 cents per kWh! That's 3.2% less than the current PTC. With a set rate for 13 months, and no early termination fee, this sounds like a fantastic plan! There is a trick to this treat however. Public Power will charge you a $9.99 monthly fee with this plan. If you decide to go with this plan, at the end of your contract you can expect to get a notice that your plan is ending about 1-2 months before the actual date. This notice will contain a new rate that you can choose to go with. You have to respond to this notice however, as Public Power will auto-enroll you in this new rate.
Don't Be Afraid Of The Dark With This Rate!
If you're still haunted by high electricity bills, check out another great offer from Public Power. This is their Electric 18 Month Fixed Rate. At a price of 4.99 cents per kWh, this offers all of the bang for your buck of its sister plan. That includes no early termination fee, and a price that beats the PTC! Additionally, it also comes with the downside. That $9.99 fee could be make or break for this plan. Similarly, you'll get notice a month or two before your contract ends with Public Power. Be sure to respond to the notice, as like before, Public Power will auto-enroll you in this new rate!
Light Up Your Haunted House By Switching Electricity Rates Today!
Remember, the Ohio Edison PTC changes on November 1st! Lock in a great rate to keep your nightlights on today! Nevertheless, if you didn't see something that makes the hair stand up on the back of your neck in excitement, there's always more. For more great deals, rates, and tips, check out more at www.ohenergyratings.com.