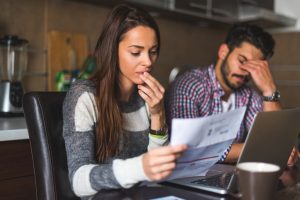 Ohio's Winter Reconnect Order can help if you're struggling to pay a high electric bill.
From Cleveland to Cincinnati, many of us know the pinch of a tight budget and have had to make tough choices on where to spend our money. If your utility bill isn't making the cut for your most necessary expenses this winter, you don't have to wait out this tough financial period in the cold. Thanks to Ohio's Winter Reconnect Order, any Ohioan can pay a capped fee to maintain electric or gas service through the winter season.
How do I know if I'm eligible for the Winter Reconnect Order?
Having reasonable access to heat and utilities during winter in the Midwest is critical. That's one reason why every customer of a PUCO-regulated utility is eligible for the program, regardless of income. It's also possible to switch electric providers under the order if available in your area.
How does the Winter Reconnect Order work?
The program is simple. All you have to do is call your Ohio electric provider and ask them about applying the order to your account. You will have to pay a fee of no more than $175 to maintain or reconnect service. If you have been disconnected and your utility has a reconnection fee, you may be subject to that payment as well. However, no more than $36 can be charged for reconnection in the first month.
What if I can't afford the Winter Reconnect Order fee?
If you're income is at or below 175% of the federal poverty line, you are eligible to use Home Energy Assistance funds to pay the fee on your behalf. Other programs like Percentage of Income Payment Plus (PIPP Plus) and the Home Weatherization Assistance Program may also be able to provide assistance. Note that if you do participate in some programs, like PIPP Plus, you might not be able to choose your Ohio electric supplier since the rules require switching you to your local utility.
When can I use the Winter Reconnect Order?
You can use the order once during the winter heating season which is defined as the months of October-April. You may only use the order for your own residence.
What options do I have to make my electric bill lower?
Comparing electric prices of different suppliers and plans is always a great option to find a cheap electric rate and lower your electric bill. Ohio Energy Ratings makes it easy to compare plans apples-to-apples by compiling all the information you need in one place! Comparing plans with Ohio Energy Ratings will help you start saving money fast.
If you need to lower your electric bill, then you need Ohio Energy Ratings. Check out your options for a cheaper electric rate today at https://www.ohenergyratings.com/electricity-rates.