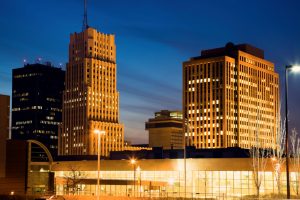 Which Akron Ohio electric company offers the best 12-month plan?
Price is the biggest thing to keep in mind when shopping for the best electricity rates. If you find yourself browsing https://www.ohenergyratings.com/electricity-rates looking for the best 12-month rate, you'll find that Public Power's 12 Month Fixed plan has got you covered!
Shop for Ohio Edison Electricity Rates
There are many 12-month plans available, and finding the best deal can get a little hectic. So let's start wading through our options and compare what we have available to us. The cheapest rate for a 12-month plan belongs to Public Power's 12 Month Fixed plan. Weighing in at only 6.3 cents per kwh, their rate is considerably lower than their competition. The average consumption of energy in the Akron area is around 895 kwh per month. That's a whopping 10,740 kwh per year! When you multiply that consumption with the $0.063 rate that Public Power offers, you'll get:
10,740 kwh x $0.063 per kwh= $676.62 (total cost)
$676.62 / 12 months = $56.39 (average monthly electric bill)
The leading competitors will offer as low as 6.6 cents per kwh. That comes out to a total cost of $708.84 for the year. By choosing Public Power's 12 Month Fixed plan, you save $32.22!
Just an Apples to Apples Comparison
A lot can happen in a year. Sometimes, you need to quit your electricity plan early, even if they're the best Ohio electricity rates. Several competing plans have an early termination fee of as much as $100 dollars! That's more than an entire monthly electricity bill! Public Power's plan has no early termination fees. If anything happens to your living arrangements, you'll rest easier knowing that your electricity provider won't fault you for it.
A Supplier You Can Trust
Beyond prices, reliability, and trustworthiness are hugely important when it comes to choosing the best 12-month plan. After all, what good is cheap energy if it constantly goes out, and customer service ignores you? If you check out their reviews, you'll find that many customers are satisfied with not only their pricing, but also their customer service work.
" I've had a couple of horrible experiences with some providers trying to get my bills fixed when they had errors on them. It seems to be a recurring issue. I had the same issue at Public Power, but I'll tell you what, instead of multiple calls to resolve the issue, Public Power managed to get everything fixed with just one phone call! I was thrilled, and for that alone Im happy with Public Power! "

— Glenn
October 21st, 2016
If you'd like to check out more of their reviews, click here!
All in all, if you compare Ohio Edison service territory rates for 12-month plans, you'll find that Public Power's 12 Month Fixed plan is your best choice.