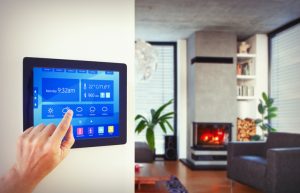 Smart shoppers in Columbus know there are more ways to save on your energy bill than finding the cheapest electricity rate. A great option to save energy and money is installing a smart thermostat. But with the prices for these thermostats running a bit higher than standard programmable thermostats, it pays to look for incentives and rebates before you buy!
What are your options to save money on a smart thermostat?
Don't pay full price on a smart thermostat for your home when you have options to save!
In the AEP Ohio Power service area, you have access to a rebate up to $100 on smart thermostats. You'll need to have residential service established through AEP Ohio Power Company and rebate amounts depend on whether you use gas or electric to heat your home.
Many homeowners know they can save money by changing thermostat settings, but tend to forget to actually do it, missing opportunities to save on their AEP electric bill. Smart thermostats change settings automatically to save you money; some can even learn your schedule and tendencies for even greater savings.
A popular smart thermostat brand, Nest, uses an online savings calculator to predict how much you can save. According to the calculator, the average household in Columbus can expect to save about $100 a year.
Other competitive options for smart thermostat brands include Ecobee and Honeywell. With Energy Star Ratings and money saving features, products from any of these manufacturers should be eligible for rebates through AEP.
Another nifty feature of a smart thermostat is the ability to control settings remotely with an app on your phone. For example, if you leave the house for the weekend and forget to turn down the heat, you can access the thermostat, lower your temperature settings further, and save a bundle!
Use Ohio Energy Ratings to compare AEP Suppliers and save even more!
Because you have the power to choose your energy supplier in Columbus, why not choose an option with an incentive for smart thermostats? If you decide to switch electric companies, find the best electric company for you with an apples-to-apples comparison of PUCO suppliers and available plans.
Anytime you need to save money on electricity, shop for the cheapest price at Ohio Energy Ratings. Get more tips to save on your energy bill in Columbus here.