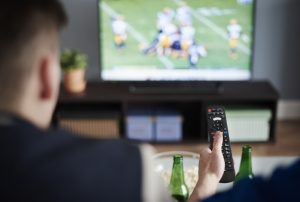 How Energy Efficient is My New TV?
The Super Bowl is one of the biggest sporting events of the year, a time when fans of football get together for the big game. With so many fans wanting to watch the game on a big, new HD TV, it's not surprising that there are a lot of sales of energy efficient TVs to make room for the newest models.
One of the key selling points for the past decade has been that Energy Star TVs can help lower your monthly Ohio utility bill. Now while that's still true, the technology has changed a lot in the past ten years. Two of the biggest energy gobbling TVs, the old CRT and plasma, are no longer being produced, while the LCD TV is largely obsolete as well. Furthermore, innovations in LED and OLED technologies are producing big TVS that are thinner and consistently use less energy. In fact, it's now safe to say that almost no new big TV will make a huge dent on what your pay for your Ohio electricity rate.
But all that said, the Energy Star spec is still being updated for all new TVs. It's also not affecting the price of new TVs. In fact, a few major TV manufacturers have already adopted standards that meet or exceed Energy Star. That's why it helps to understand what currently goes into making an Energy Star qualifying TV.
How Much Electricity Does a Big TV Use?
A BIG TV, such as a LG 65″ UM6900PUA Series Smart 4K LED TV with HDR pretty much has all the bells and whistles that one this size should have.  There's a nice 20 watt sound system, internet capability with streaming services, and that big 4k resolution. To be sure, it's a lovely thing. While its estimated annual usage is just 169 kWh, unfortunately, that does not qualify it to be Energy Star.
Energy consumption and efficiency for new flat panel TVs depend on several things:
Size matters (measured by the screen size, diagonally). Larger TVs use more electricity. Consequently, there are very few Energy Star compliantTVs in the 65" size or larger.
Screen resolution. A 720p set uses fewer pixels and thus less energy than a 4K.
Screen type. The old LCD screens used a bright fluorescent backlight to light up the LCD display part of the screen. LED screens backlight the LCD display with energy efficient LED. Lastly, organic light emitting diode (OLED) TVs don't use backlighting. Instead, they use millions of tiny LEDs as pixels to simulate an LCD display. Not only are they more efficient than LED screens, but they take up less room, allowing for larger but very thin.
 Automatic Brightness Control (ABC). The ABC function sets the TV's brightness automatically to adapt to lighting conditions.
Built-in sound quality. New, thin TVs can scarcely a set of good speakers. Consequently, TVs with better built-in sound tend to use more electricity because they have larger, more powerful sound systems.
Stand by power consumption. If your TV has a remote control then it's always ON. If it's a smart TV that's connected to the internet, then it will likely use even more electricity. The EnergyStar standard is 0.5 watts or less in standby mode. Internet connected TVsmust consume no more than 3.0 watts while in Standby or Low Mode.With these things in mind lets look at a similar sized Energy Star qualifying model and compare them apples to apples,
Energy Star Qualified Big TV
This year, the NEC E657Q is EnergyStar's Most Efficient 65" TV.  According to the manufacturer specs, the E657Q features::
10 watt sound system
4k UHD resolution
Automatic Brightness Control
Room Lighting Sensor
Power Consumption in Standby Mode: <0.5 watts
Auto power saving mode when connected to LAN
Reported Annual Energy Consumption (kWh): 141.1
Both TVs have great pictures, lush color, and that great 4k resolution. But setting aside the noticeable price difference between the NEC and the LEG models, only one of these TVs will have a lower impact on your monthly Ohio electricity bills.
One of the big differences is that the NEC E657Q does not have a built-in internet capability. Unlike the LG model, it doesn't have a built in wireless network capability or a browser. You won't be able to connect to NetFlix or Hulu or any other streaming services <em>directly</em> from it. Nor will you be able to control it using Alexa or Google Home. However, you can connect it to your home's computer network (LAN) via an ethernet cable and control it from your computer/laptop. Sure, that might sound like it's not a very smart TV. But, it is smart in terms of power consumption because the LG uses more electricity to maintain all of its internet and devise connections while the NEC doesn't need to.
The next noticeable difference is the that NEC model has a weaker audio system; just 10 watts total vs the LG's 20 watts. As already mentioned, these big, thin TVs don't really have room to accommodate large speakers to begin with. While that might mean to some that any audio quality discussion is a wash, it does mean the NEC consumes less energy.
How Much Money Can A Big Energy Star TV Save?
The LG consumes about 169 kWh per year while the NEC uses 141.1 kWh. Now, while that's a 27.9 kwh difference, we're talking about usage for the whole year. That difference breaks down to a little over 2 kWh per month which, compared to a refrigerator or electric clothes dryer, is just a fraction of daily usage.
Assuming the EIA's average price for electricity in Ohio is $0.1256, then these TV's consumption looks like this:
LG usage of 169 kWh per year = $21.22 per year (or $1.77 per month)
NEC usage of 141.1 per year = $17.72 per year (or $1.48 per month)
 Total savings = $3.50 per year (or 29 cents per month)
Can I save Electricity without Energy Efficient Appliances?
Admittedly, a savings of just 29 cents per month with the NEC model isn't a very convincing trade off for the extra conveniences that come with the LG model. While big Energy Star TVs might no longer be the star performers they once were, there is a growing evidence showing that it's the number of energy efficient devises and appliances that add up <em>together</em> to produce meaningful reductions in your energy usage. And by controlling your appliance electricity usage and shopping for cheap electricity plans, saving money gets easier. Plus, even if you don't want to buy a new big TV or some other Energy Star compliant appliance, there are still plenty of ways to save money on your Ohio electricity bill. For more information on not only energy saving tips but cheap electricity plans, check out https://www.ohenergyratings.com.