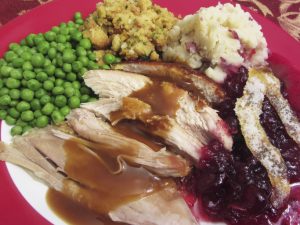 Great Deals On Your Festive Food
Big family feed called off? Consistently burn water? Working late and have no time? Just cooking for yourself? If you're still looking for the perfect spread for this Thanksgiving Thursday, the options can be overwhelming, especially for small groups of people. To make your holiday more convenient and enjoyable, we've scoped out some of the best places for your Thanksgiving feast. From small portions to vegetarian, delivery to pick up, you'll have plenty of time to grab a delicious Columbus Thanksgiving to go.
Thanksgiving to Go: Bird is the Word
This year, cooperation is the name of the game! Dough Mama, Ambrose, and Antiques On High have teamed up to bring you some great holiday feasts– including vegetarian options! Starting at just $125 for a vegetarian meal for two, to a $250 turkey dinner for 4-6, this is the perfect option for families and friends without breaking the bank, or burning out the kitchen.
Their Turkey Dinner for 4-6 Servings comes with a 10–12 lb Turkey ready for the oven (complete with baking pan and instructions), cornbread stuffing, mashed potatoes, biscuits, your choice of pumpkin or bourbon pecan pie, and so much more. Order an additional drinks package from Antiques On High for $50. The deadline is November 22nd so make sure you hop on this before it goes away! Pickup is 4pm on the 24th. Any unclaimed food will be sent to a local food pantry!
A Feast Fit For One – Or More!
Alone this Thanksgiving? Not quite ready to commit to buying a whole bird for you to pick off for the next month?  Check out Matt and Tony's Wood Fired Kitchen! Pickup a plate for yourself with turkey, gravy, sourdough dressing, mashed potatoes, and a fresh baked roll. Individual diners cost $19 (and you can add on an entire pie for just $14). Looking for a little more? They offer dinners for up to 10 people for $185. At just $18.50 a head, you can't cook for that low! Choose a pickup time on Wednesday and get hot and ready to eat food!
Columbus Thanksgiving Cake or Pie?
Got the spread but not the sweets? Confounded at the ways of patisserie? Store's out of pecans, again? Never fear,  from cakes to pies Resch's Bakery has you covered. Yes, even those fickle few who continue to argue that pie is not superior (you know who you are) can get their favorites. Give Resch's a call at (614)237-7421 to place your order for delicious pies, rolls, or other baked sweets today!
Grab A Thanksgiving Dinner For Yourself
Don't want leftovers? Just looking to grab a hot plate before you hack through the Black Friday retail hours? Matt The Millers Tavern can hook you up with their Thanksgiving Plate To Go! Get your choice of turkey, roast beef, or both, with mashed potatoes, gravy, stuffing, skillet green beans, bread, and a slice of pumpkin pie, hot and ready to eat at your convenience. Individual meals are $21.95, and can be picked up from 11am-5pm on Thursday.
Hot and Easy Columbus Thanksgiving Meals To Go
Missed shopping or don't have time to tend a turkey? Bob Evans is supplying full heat and eat meals for pickup or delivery. Get your Columbus Thanksgiving to go that serves up to 6 for $59.99! Or grab a plate for you and a friend for $16.99 each. Order ahead, or order the day of! Restaurants will also be open on Thanksgiving Day.
Thanksgiving The Way You Want It
There are so many options for doing Thanksgiving your way, just like you can have your electricity your way. If you're looking for a fresh new rate for your Columbus electricity bill, head over to www.ohenergyratings.com and shop around! We've got some great rates for you, served just the way you like them.