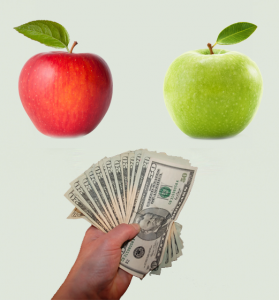 Apples to Apples in Brookpark, OH
If you want to find the best electricity price in Ohio, you might be seeing many different plans all labeled as an amazing deal. But how do you know what you're looking at is an amazing deal? Well let's get into the details with the five cheapest plans available in Brookpark and the rest of the Cleveland metro area.
Best Electricity Supplier in Brookpark, Ohio
Of our five plans, the company who has the cheapest plans in Brookpark is Public Power. The first plan and shortest of these plans, is the 12 Month Fixed plan, with a price of 5.77 cents per kWh. While it's the shortest it isn't the cheapest. The 24 Month Fixed plan has an affordable price of 5.68 cents per kWh; by far the cheapest plan in Brookpark. Meanwhile, the last plan from Public Power is the 36 Month Fixed plan with a competitive rate of 5.88 cents per kWh. All these plans offer great rates for terms that not only protect you from sudden rate price spikes in summer and winter but also offer steady, predictable amounts for monthly bills that allows you to budget your spending more easily. Besides this, Public Power has high reviews from other customers so you can easily compare electricity suppliers.
How Do I Compare Brookpark Electricity Rates?
The provider with the second cheapest plan in the Brookpark area is Quake Energy. They offer a competitive 5.75 cents per kWh price for their 12 Month Fixed Plan. The 12 Month Fixed Quake Energy plan has a cancellation fee of $50, so if you decide to switch plans you will have to pay that fee to leave early. Of course, if you do want to switch electricity providers Ohio Energy Ratings is the place to start.
Find Cheapest Electricity Supplier
The final and most expensive of these five is the Live Brighter 18 plan from Direct Energy. It's an 18 month plan with a competitive price of 5.89, only a little bit higher than Public Power's 36 Month Fixed plan. Because it's a long plan, the lack of a cancellation fee gives you more freedom to switch if you aren't satisfied. This is important because the EIA predicts that electricity rates may rise over the next two years.
Who is the Best Electricity Ohio Supplier?
The best electricity supplier depends on what type of plan you need for your home and situation. Public Power has the longest plans for the cheapest rate. If you don't want a long plan, Quake Energy has the cheapest 12 month plan. But if you don't want a very long plan or a 12 month plan, Direct Energy's 18 month plan should be just what you need.
For more energy plans from Ohio's best suppliers, check out https://www.ohenergyratings.com. Plus, for more information on saving electricity and money, check out the Ohio Energy Ratings blog.