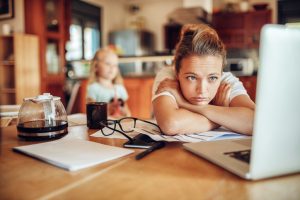 Coronavirus and Your Utility Bills
—UPDATED—
    03-18-20
The Coronavirus (or Covid-19) outbreak news over this weekend has left many working Ohio families wondering what's going to happen in the wake of schools and many businesses closing. Folks want to know how they'll make ends meet if they get laid off or must stay home to look after children who aren't in school. They're also concerned about how they'll be able to afford their Ohio electric bill at the end of the month.
Because we here at Ohio Energy Ratings monitor the news about Ohio energy prices and regulations, we're going to stay on top this story to help our customers stay informed and ready.
Covid-19 Energy Service Disconnections
On March 12, 2020, the Public Utilities Commission of Ohio (PUCO) ordered Ohio's electric and natural gas distribution companies to review and suspend their disconnection policies.  Their goal is to reduce hardship on residential and non-residential customers for the duration of the emergency. While that means customers don't face disconnection for nonpayment, PUCO's order does not eliminate any payment obligations.
PUCO has also extended its winter reconnect order from the usual end date of April 15 until May 1. The order helps Ohioans keep their natural gas and electricity service during the heating season.
In addition, PUCO has also ordered competitive natural gas and electric providers to halt door-to-door and in-person marketing to avoid unnecessary social contact. The Order states, "Marketing practices involving in-person contact like door-to-door and in-store marketing by CRES and CRNGS suppliers present unnecessary risks of spreading COVID- 19 to all individuals, particularly with respect to at-risk populations in Ohio."
Coronavirus Utility Disconnections
The following utilities have made their own announcements after PUCO's announcement about suspending all disconnections for non-payment:
Because this situation can change daily, customers should contact their local electricity utility to find out more about arranging late policy payments during the Coronavirus crisis.
We will post updates about disconnection moratoriums and other information for Ohio customers as we learn more:
Constellation Energy (an Exelon Company) has announced in an email that they are suspending disconnects and new late fees for its natural gas and electricity service customers in Ohio and elsewhere until May 1, 2020. They are also offering deferred payment plans for customers that are being directly impacted. Customers needing assistance contact customer assistance.
Coronavirus Stay Safe in Ohio
We want all our customers to stay healthy and safe during this outbreak. To learn more about what you and your family can do, check out the Centers for Disease Control (CDC) website. To learn more about the situation in Ohio visit the state Department of Health's Coronavirus website.