The hottest new Energy Gadgets at this year's Consumer Electronics Show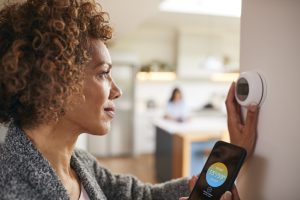 While the pandemic clouded this year's CES show, some bright spots showed up in the form of top of the line tech for your home. Sure, all the new cars, televisions, and Metaverse shenanigans might have bewildered you. But, inventors showcased a lot of tech designed to be practical for the home. Best of all, it could help you save money on your Ohio electric company bills! Let's check out the CES 2022 best energy gadgets for your home.
New Solar Tech Makes Home Panels Obsolete
GAF Energy has released a new advancement in solar power. Their new Timberline Solar Energy Shingles are quickly installed on roofs with a nail gun like traditional shingles. The biggest bonus? They claim to not affect your roof's warranty. That's because solar installers must mount traditional solar panels onto frames that are screwed directly into your roof. Conversely, the Timberline Solar Energy Shingles install alongside your traditional shingles, making them a part of the roof itself.
Change That Channel- But Not The Batteries
Samsung is working off of their debut of the Samsung Smart Remote at last year's CES with a new "Eco Remote" that charges off of solar, indoor lighting, a USB-C cable, and now, radiofrequency energy harvesting. This means that the remote re-charges by converting radio waves from your wireless network into electric energy. So, no more batteries! And remember those mid-2000's as-seen-on-TV shake flashlight commercials? At one point, Samsung engineers considered the idea of kinetic energy (or shake-to-power) as a power source. However, the current solar/radio frequency method seems to work best.
Our Favorite Energy Gadgets From CES 2022
By far the most whimsical, and the most confusing, is the Kohler PerfectFill bath system. Similar systems have been available in Japan for years, but the real quirk with this one is voice automation. Now, we're all for delightful soothing self care, and an automatically filling bathtub could cut down on water waste from excessive water usage. The projected price tag for the whole system is $8000, and the automatic filler alone is $2700. However, with the temperature control, and fill height adjuster, you might find this to be useful if you have kids, or don't have time to draw yourself a bath after a busy working day.
The Hottest New Tech for Your Home
With these new releases and many many more, you can be sure that there's going to be a lot of advances in the coming year. Looking for more ways to help your home out with tech? Check out the benefits of programmable thermostats. Additionally, check out new rates for your area to help you save money. For more tips, tricks, and electricity saving tech, check out more at www.ohenergyratings.com