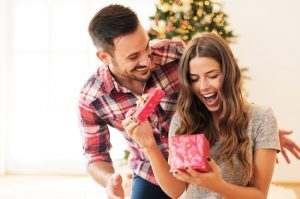 Cool Energy Efficient Gadgets To Gift
While you can save on your Ohio energy rate any time, the Holidays are closing in fast! If you're still looking for the perfect gift, we have the solution! Give the gift of energy efficiency this Christmas! We have five of the best energy efficient gifts to help lower your monthly electricity bill!
Five Gold Stars
Light up Christmas morning with a set of cool LED lightbulbs! The Phillips Hue LED Smart Bulb Starter Kit contains 4 color changing bulbs and Hue Bridge for $173 plus shipping. While CFL bulbs us up 14 watts, these LED lights only use about 9.5 watts and change color at your command! Set your desired colors, routines, and more, and put the light in your hands. They are controllable with either the Hue app on your phone, or your choice of smart home device. Amazon rates Phillips Hue bulbs 5 stars so add some fun to your home and save money!
For Apartment Dwellers
When it comes to energy efficiency, the humble smart power strip sounds lackluster . But when it's a smart power strip they are incredibly useful. Though an unexpected gift, it will be huge for apartment dwellers where plugs can be few and far between. Our pick is the Kasa Smart Plug Power Strip for $54 on Amazon. This smart strip features 6 plugs, 3 USB ports, and works as a surge protector. It can connect to your wifi, and has Echo, Cortana, and Google Home compatibility! You can save energy by controlling certain plugs either with your phone or from routines set up with your smart home devices.
Three Favorite Books
For the bookworm in your life, give the gift of knowledge! The first to consider is Silent Spring by Rachel Carson, which has been credited with launching the environmental movement. Hot, Flat, and Crowded by Thomas L Friedman offers perspectives on global warming, population expansion, and the effects on the planet. Finally, Cradle to Cradle by Michael Braungart discusses the recycling industry its ripples for your consideration. All these excellent books (and others) are available as paperback, audiobook, or Kindle for any reader in your life.
Too Much Cable Box Power
Cable boxes take a lot of power! Kick your cable to the curb and pick up a Roku Media Player! Roku sticks right into the HDMI port of your television and not only hosts live tv but can connect to Hulu, Netflix, Amazon Prime, HBO, Apple TV, and more! Roku uses about 1/8th the power while idle than a standard cable box. Plus, it can use up to 30 times less power than the average video game console. This makes energy efficiency simple and make a huge difference in your power bill. Pick one up for just $29 in time for Christmas!
And A Thermostat In A Pear Tree
If you're looking for a bigger ticket item, consider the NEST Learning Thermostat. A smart thermostat can mean huge energy savings for the new year! By learning your habits, a smart thermostat can save money by turning down the temperature while you're not in the house, or at night. It can also help show the energy efficiency of your heating based on how fast your home heats up compared with the temperature and weather outside. Nest also offers an energy history, showing you the daily electrical usage of your home.
Give The Gift Of Energy Savings
Whether you're shopping last minute for yourself, or for others, these energy efficient gifts, big and small, can make huge dents in your Ohio electric bill. Order soo so these gifts might arrive under your tree in time! When it's time to switch your electricity rate we hope you'll be back! For more information, rates, and fun electricity efficient gift ideas year round, go to www.ohenergyratings.com!