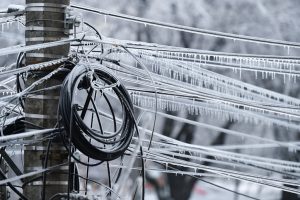 Can My Electricity Bills Skyrocket Because Of A Storm?
With all the talk of the Texas Winter Freeze, and a lot of keyboard debate about deregulated energy, it's understandable to feel a little uneasy about what could happen in the snowy expanse of Ohio. Turns out, there's a huge difference in the energy market of Ohio and Texas, and not just in location. We're going to break down why you're unlikely to see a staggering Texas freeze bill from your Ohio supplier.
Everything's Bigger In Texas
From the cities, the temperatures, to the energy market, everything's pumped up to the extreme in Texas. Mostly extreme temperatures in the upward direction. From the top of the roof to the base of the foundation, homes in the southern US are constructed to keep cool. That means when the temperatures dropped, millions of Texans cranked up their electric and gas furnaces for heat.
ERCOT, the Texas grid, is essentially "a walled garden". In exchange for staying free of federal oversight no electricity can flow out, and none can flow in. While Texas usually makes plenty of power, sometimes extreme demand causes problems. For example, relentlessly oppressive summer heat that leads to rolling blackouts as the state struggles to meet daily demand.  Meanwhile Ohio is part of one of the largest electric grids in the nation, the PJM grid. This means that a total failure similar to a Texas freeze hitting Ohio is unlikely.
Why Did Texas' Grid Fail? Will That Happen To Ohio?
At its core, the Texas power grid failed because too much equipment froze. This included almost every natural gas pump in the state. Natural gas accounts for almost 56% of the electricity generated in Texas. So freeze-offs robbed generators of  massive amounts of  fuel to generate power. On the Ohio side, ice on power lines is more likely to cause a power outage, but on a much smaller scale. Weatherproofing, meanwhile, is a fairly standard thing to find in the northern states. Ohio's generators, natural gas systems, and homes are much better prepared for temperatures that often get even colder that what Texans recently faced.
Lastly, in Ohio, there PUCO's rule that "fixed means fixed". Your provider cannot suddenly change your fixed rate plan to cover their unexpected costs. If a provider needs to alter a plan contract that's in effect, those changes must be made through PUCO to protect consumers. So, even if a Texas freeze event hit Ohio your fixed rate can't change no matter what happens.
Why Are My Bills Higher This Month?
The short and simple answer is, with families staying home due to Covid, most find they're using a lot more electricity. One thing customers miss is to keep track of their plan's expiration date. Ohio law requires your electricity provider to notify you by mail what your choices are before your plan expires. These can include switching you to your local utility's PTC rate, or offering you a new plan, or rolling you onto their variable rate. Some people toss out these notices without notifying their provider. Unfortunately, providers are legally allowed to assume that you approve their offer even if you don't contact them. As a result, if your plan expired months ago, you may be paying a high variable rate than you would if you shopped around.
How Can I Keep My Bills From Getting High?
To start with, check out these great tips and tricks to help you save electricity in your home. Next, make sure that your plan hasn't expired without you know it. Make sure you're not in a variable rate. If you are, you should shop around for a new plan.
If your plan hasn't expired, re-read your current plan's Terms of Service. Then set some reminders to shop around for a new electricity plan a month before your contract ends. Put it in your phone's calendar, on your smart device. Write it on something you'll open around the time when it's up. This way you won't miss when your contract is ending. And when it's time to find that new rate, make sure you head on over to www.ohenergyratings.com for the best deals on your Ohio electricity.