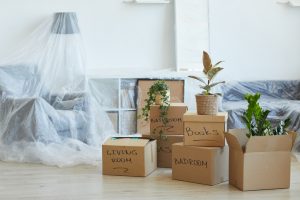 Save Time, Money, And More With These Tips!
Whether you're moving into a new apartment, new home, or your friend's spare room, it's a pain! Between figuring out new bills for your home, to just getting your stuff moved in the first place, we've got some great resources for you. Here are five ways to make your Columbus move easier!
1. Save Your Sanity
This first tip is one of the most useful, but common moving tips. Grab a box or bin and put the daily things that you need into it: medications, toilet paper, paper towels, etc. But there are a few extras you'll want to add, like a plunger, an extension cord or power strip, and a few extra wall chargers and cables for your devices. This can save you a major headache in your new space. No more running out and buying chargers when you realize you accidentally packed them at the back of the truck!
2. Save On Box Space (And Price!)
Boxes are one of the pains of moving. However, you have some fantastic boxes sitting in your closet! If you have duffle bags, rolling luggage, or extra plastic bins, all of those can be used to your advantage. Trash bags are a classic clothing moving tool. Poke a hole in the bottom, and you can use them to corral clothing on hangers, allowing your things to lay flat, or cushion sensitive objects without fear of getting dirty.
3. Save Your Back
A great way to move books is by using egg crates from your local grocery store. They're sturdy, well glued boxes, don't get too heavy, and are nice and compact, compared to your average cardboard box. Don't have enough books to warrant a whole mess of egg boxes? Throw your books into your rolling luggage! This is particularly great for apartment dwellers, who may need to get books up stairs, by keeping them compact, and easily portable.
4. Save On Your Electricity
In your old home, be sure to make sure all lights and switch-plugs are off once you clear a room. This will cut down on any additional waste while you aren't using the space. Remember that you have options when it comes to choosing your electricity. Check out a wealth of plans for your area, and see what you have available! If you're new to Ohio, be sure to check out what to expect with Ohio Energy Choice.
5. Save Your Plants
Moving to a new space can be a major shock for everyone including your little green friends. You may find that in spite of your efforts, they're not looking their best. Rolling plant stands can be a great option to help move larger pots around safely. We recommend a set that has locking wheels, to help prevent mishaps while things are shifting around.
Have A Happier Move
An easy move is a happy move. Hopefully, these five tricks can make your move easier. Shopping for electricity can be easier too. There are tons of ways to keep your bills low. However, if you're in the market for a new electricity plan, be sure to check out all the plans, tips, and tricks at www.ohenergyratings.com