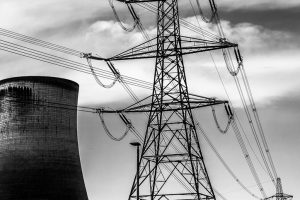 Electricity Bill Generating Worry for Ohio Renewables
Generating company First Energy Solutions is in the midst of Chapter 11 reorganization. The company told state lawmakers that if doesn't find a buyer for both Ohio nuclear plants or a way for them to generate a profit within Ohio's competitive electricity market it will start closing them in 2020.
Ohio House Bill 6, "Ohio Clean Air Program",was originally designed to incentivize reduced/zero carbon output from power plants by creating the Ohio Clean Air Program. The program would incentivize generator companies to build power plants with reduced/zero carbon output. Ideally, that all would lead to less pollution, better air quality, less green house gasses affecting climate, and cheap Ohio electric rates.
But since the beginning, the devil has been in the details.
Ohio Renewable Energy Price
HB6 originally created an annual fund of $300 million that would benefit carbon dioxide-free electric generators. Carbon-free generators could get a $9 credit per megawatt hour for the electricity they generate.  First Energy's Davis-Besse and Perry nuclear power stations were expected to qualify for at least half of a $300 million fund and continue to employ about 1,400 people in Oak Harbor and Perry, Ohio. Wind and solar projects around the state would have naturally shared in the $9 credit per megawatt hour. However, this credit would only come about by eliminating a $4.39 per month fee that currently funds energy efficiency and renewable energy programs that have saved Ohio utility customers $5.1 billion on utility bills  since 2009.
Nuclear plants must pay million of dollars for  fuel rods at refueling time. Perry nuclear power station has already completed its 27 day refueling shut down. However, Davis-Besse is scheduled for refueling in 2020. Consequently, First Energy Solutions would really like a decision about HB6 soon so it can begin planning to buy new fuel rods for Davis-Besse by June.
That behooved House Republicans to get the bill to Governor Mike DeWine's desk in time.
Ohio Apples to Apples Cost
Unfortunately, the two parties stayed split over support for the state's renewable energy standards. Davis-Besse and Perry make up roughly 2,150 MW (about 12%) of the state's utility-scale net electricity generation. Renewable energy in Ohio contributes around 3.2%. However, the state's present renewable energy portfolio standard requires renewable sources to generate 12.5% by 2027. So local utilities are supposed to purchase renewable energy to meet that goal. Renewable energy standard backers worry that utilities will no longer need to follow renewable energy compliance rules. As a result, Ohio may see slower development and job growth in its renewable energy sector. One 2018 research project suggested Ohio could see 10,500 jobs created through investments in wind and solar power along with energy efficiency.
Those who backed HB6 argued that closing the nuclear plants would increase carbon emissions as more natural gas generators took over the load.  Carbon emission debates have split environmental groups over nuclear power station closures in both Ohio and Pennsylvania. Natural gas generators are far more profitable in competitive markets. They are cheaper to operate, respond faster to changing demand, and more economical to build. While they are cleaner than coal plants, natural gas plants still put out lots of carbon.
Governor Mike DeWine came out in support of saving the nuclear plants, saying, "You cannot dramatically reduce carbon or keep those numbers down without using nuclear."
Electric Bill Down to the Wire, Poles Apart
Both parties struggled with negotiations. Republicans argued the bill ensured low priced Ohio electricity and protected jobs. The Democrats argued the bill is a bail out that would cripple the growing Ohio renewable energy job sector and increase customer prices.
On May 22, Republicans on the House Energy and Natural Resources Committee stripped out the renewable energy portfolio standard from the bill all together. Ironically, they added subsidies for two 1950s-era coal-fired power plants that will last until 2030. Ohio Valley Electric (OVEC) owns both coal-fired plants. OVEC is in turn owned by several of the state's major utilities.
On May 29, the Ohio House passed HB6, the "Ohio Clean Air Program" by 53- 43 with a handful of Democrats voting for it and nearly the same number of Republicans voting against it. The bill now goes to the Senate.
Future Electricity Rates in Ohio?
HB 6 demonstrates the challenges in crafting an energy program for Ohio. The state needs a program that addresses both the demand for affordable energy and problems from increasing carbon emissions.
In its current form, all Ohio electricity customers will pay $1 on their monthly utility bill. The money will go into a state "clean air fund" worth about $190 million annually. Six current solar projects will receive some subsidy. However, most of the money would go to the Davis-Besse and Perry nuclear plants until 2026.  Meanwhile, OVEC could charge its customers $2.50 per month to keep the two coal plants operating, one of which is located in Indiana. In addition, the bill also allows residents of unincorporated areas to demand a referendum to block construction of wind farm projects in their area, even if the project has already begun.
Your Ohio Energy Bill
Adopting HB6 would replace the $4.39 per month renewable energy fee with a $1 subsidy surcharge for the nuclear plants. While that sounds like Ohioans can look forward to lower utility bills, it's not certain. The bill's amendments permit blocking of existing wind projects as well the repealing of the renewable energy portfolio standard and these could stifle renewable energy in Ohio.  Unmet demand could possibly lead to higher prices in the near future. Higher prices would trigger a cap on subsidies to the nuclear plants. Higher prices would also lure more cheap-to-build natural gas generation plants into the state. In the end, the "Ohio Clean Air Program" might wind up increasing both consumer prices and carbon emissions.
HB6 is a very thorny proposal. It's not entirely clear what will happen to Ohio electric rates if it is signed into law. As the measure currently stands, consumers and Ohio electricity companies may see benefits in some areas but also may face losses in others. What is really at stake is how Ohio will keep electricity prices affordable while reducing carbon emissions for the future.