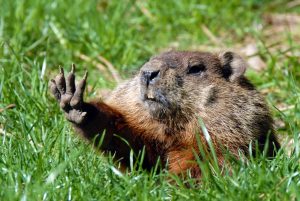 Save On A Whole Year Of Electricity In Cincinnati
Anyone looking for a new Ohio electricity plan might feel like a groundhog on Groundhog Day. With all the long shadows of different providers and options available to you it's easy to feel intimidated! But if you decide burrow down and stay with the Duke Energy Price To Compare, remember that its current 5.34 cents per kWh rate expires at the end of March. With residential electricity rates expected to rise in 2021, you might wind up paying more. So this is your winter wake up  call. It's time to rise and shine and and save on the best electricity in Cincinnati.
A Great Green Budget Option
If you're looking for a great wallet-savings option and for the environment, check out the Green Online Premier-12 from Frontier Utilities. This rate rivals the Duke Energy PTC at 5.39 cents per kWh. It also has no termination fee, making this plan is light on your budget. Frontier also gets a significant portion of their purchased energy from carbon-emission-free nuclear power stations. You'll get to support green energy, and save money! Towards the end of your year long term (90-45 days prior to the end of it) you'll get a letter explaining any updates to pricing. This is where you can either accept or choose to terminate your contract at the end of your term. If you do nothing,  you'll be swapped to a variable month-to-month contract with Frontier.
Wind Power For The Win
If you want another great option for someone wanting to go green while saving green, check out Tomorrow Energy's 12 Month Fixed plan. Also ringing in at just 5.39 cents per kWh, this plan is great for people looking for cheap sustainable energy. Tomorrow Energy purchases 100% wind powered RECs (Renewable Energy Credits). This means that 100% of the energy you consume is offset by purchased electricity from sustainable generation. At the end of your term, you'll be transferred to a variable month-to-month plan. One warning is that this plan comes with a $75 early termination fee, All the same, this plan helps you save a lot of green with the best electricity rate
Giving Back While Saving Money
A great option for someone looking for a little more bang for their buck is the Constellation 12 Month Home Power Plan. At 5.79 cents per kWh, this plan is slightly more expensive than the other two plans referenced here. It also has a nominal early termination fee of $25. One thing that sets Constellation apart from the competition, is its community grant program. Constellation customers can nominate, apply for,  and support local charities and causes to receive grants from the Constellation Community Champions program. Another benefit is automatic renewal. You'll still receive the letter outlining your choices, including a renewal offer. Be sure to that you agree to the new terms and rates.  If you do not reject their offer, Constellation will automatically renew you  to this new plan.
Save On The Best Electricity Prices For You
Each of these plans offers a great option for people looking for great prices on their electricity. But there's still more to look at including great energy saving tips. If you're still looking for more ways to save on your electricity, check out more plans and resources at www.ohenergyratings.com.