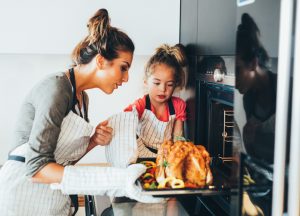 Make sure your dishes stay warm this Thanksgiving in Ohio.
The main challenge of a host at Thanksgiving is preparing a lot of food for a lot of people who might not arrive on time. What can you do to serve a hot meal despite later dinner guests? Have a killer backup plan to keep your food warm!
Experienced hosts probably have a few tricks up their sleeves already, but we've prepared an extensive list of solutions to help you prevent any Turkey Day disasters. We even included energy-saving solutions so you don't have to worry about your Ohio electric rate during the holiday.
Standard solutions for a piping hot Thanksgiving meal.
Microwave: a few things you cook for the big day can be reheated in the microwave. Or simply place food inside the highly insulated space to stay warm and save energy.
Slow Cooker: cook or transfer dishes into a slow cooker and keep on the warm setting. To save space, you don't even have to keep slow cookers in the kitchen!
Toaster Oven: it may be little, but it's probably big enough for a casserole dish you want to keep warm. As a bonus, set another dish on top to keep warm when the toaster oven is hot.
Grill: a standard cooking surface, but usually not for Thanksgiving. Place covered dishes in your propane grill and fire it up at a low setting.
Creative and energy-saving solutions to keep Thanksgiving dinner warm.
Cooler: because it's insulated, a cooler can keep food quite warm. While comparing electric rates can save you money, so does this zero-energy solution.
Thermos: any insulated travel mug, cup, etc. is a great place to keep gravy hot while keeping your electric bill low.
Bread Warmer: the simplest way to keep bread, rolls, and biscuits warm is to heat up the bread warmer in the oven and pile warmer and food into to a covered basket.
Oven Drawer: did you know the drawer below the oven actually isn't for storage? When the oven is hot, use the drawer to keep any dish warm from pies to stuffing to casseroles.
Electric Blanket: an out-of-the-box solution for warm food, but it works! If you're running out of space, pull out your electric blanket and wrap up a few dishes until you're ready for dinner.
Celebrate Thanksgiving with the best electric rate when you shop Ohio Energy Ratings.
Thanksgiving is a great time to give yourself the gift of a lower energy bill by switching to an electric supplier with the best rate. Don't want to spend hours searching and comparing to find a great deal? All you need to do is enter your zip code at Ohio Energy Ratings and compare electric plans apples-to-apples. It's fast and easy!
Visit us today at https://www.ohenergyratings.com/electricity-rates.