Is Your New Smart Thermostat Worth It?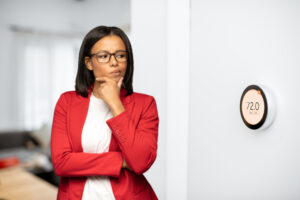 Did you get a new smart thermostat for the holidays? Are you now staring at that tiny mystery of plastic and wire and wondering "what do I do with this?" You might even be thinking of quietly returning it. STOP! Don't touch that dial! Instead, let's go through the three most popular smart thermostats and look at their pros and cons. That way you can see what smart thermostat makes the best gift. And then determine what it can do to help you save on your Ohio electricity bill.
What Benefits Does a Smart Thermostat Offer?
If you aren't technologically savvy, you might be wondering what makes a smart thermostat better than a run-of-the-mill programmable thermostat. At their core, these smart devices are just really fancy programmable thermostats. They offer the same benefit of setting the heating and cooling of your home to a schedule that saves you money on your electricity bill. Where they excel is in its ability to learn. By analyzing not only your behaviors, but environmental changes like weather patterns, a smart thermostat can adjust your home's heating and cooling to save you money on your electricity bill. Some also track air quality, which helps with allergies. Lastly, you also gain the benefit of being able to remotely control your thermostat, allowing you to catch problems if you happen to be out of town.
Sorting The Most Popular Smart Thermostats
According to the New York Times, these are the most popular thermostats on the market:
Amazon's Smart Thermostat connects exclusively to their Alexa system. While you will need an Alexa enabled speaker to use voice commands, you do not need one to work the system from your phone, or from the device itself. The Amazon Smart Thermostat is highly rated for its user-friendly nature.
If you got an Ecobee Smart Thermostat, you're in luck. Their smart thermostats will also work with Google or Apple smart products, as well as the Amazon Alexa service.
The Nest Learning Thermostat is a great, unobtrusive smart thermostat that can fit into any home's decor. It also works with Google, Amazon, and Apple smart products. Be warned though, you'll need to check if your current thermostat's wiring is compatible.
What Are The Downsides Of a Smart Thermostat?
If you got a smart thermostat as a gift, you don't have to worry about the first hurdle, which is price. Smart thermostats cost a great deal more than their programmable counterparts. This leaves us with two big problems with them. The first challenge is security. WiFi and Internet-enabled thermostats do pose a risk to your in-home network because they can be hacked. While it's not easy, but it is possible. So, the most important rule is to give it a good password. The second issue is attaching it to the wall. For most, installation is usually pretty easy, just follow the instructions. But it will involve connecting wires. And if you're uncomfortable with wiring, you can pay a local HVAC technician to do it.
Get The Most Out Of Your New Thermostat
Don't let that thermostat scare you out of saving on your Ohio electricity bill this year. Put it to use for you! You can integrate it with all sorts of great energy saving tips and tricks to make your home more efficient. And if you're looking for a new electricity plan to keep your bills in check, you can shop them all at www.ohelectricityratings.com