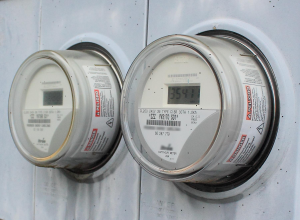 Ohio Utilities are already switching to smart meters.
The Public Utility Commission of Ohio approved the state's utilities to upgrade the old analog meters throughout their service areas (check out the PUCO service territory map here). The new meters use radio signals to communicate information about your energy usage and eliminate the need for meter readers. While the change comes with some benefits for customers, not everybody will be excited about it. For Ohio customers making apple to apples shopping comparisons, one major stumbling block has been funding.
Rules and process for smart meter installations and how they affect you.
When will smart meter installations occur? Smart meter installation is now part of PUCO's "Power Forward" initiative to modernize the Ohio grid. Installation depends on who is your local Ohio utility.
How should you prepare for a smart meter installation? Although the meter technician won't need access to the inside of your house, make sure access to your meter is clear and be prepared for a brief power outage while meters are swapped.
Will you be charged for a smart meter? Yes. A small amount will be added to your monthly bill. The actual amount will depend on what rate PUCO approves for your local utility.
What if you don't want a smart meter? You can refuse the upgrade to a smart meter, but that decision comes with a $24/month charge, approved by the Public Utility Commission of Ohio to cover costs associated with meter readers. If your meter has already been upgraded, you can have an analog meter re-installed for a one-time fee of $43.
What will the utility do with the data collected by your smart meter? Utilities will use data from smart meters to determine exactly what to charge for electricity during periods of high use. When disruptions in the grid occur, data from smart meters will help the utility quickly pinpoint and reroute power to minimize further disruptions and outages. Ultimately, if your provider offers a web interface, you will be able to view your usage data online and use it to help you better understand your usage and even save money on electricity.
The take home message about the update to smart meters is that it can help you use energy more efficiently and save you money. Access to detailed information about your energy usage allows you to indentify appliances or activities running up your bill and presents an opportunity for you to change habits for the better. In addition to saving money, being smarter about your electricity use will also lead to becoming a greener energy consumer in Ohio.
If you are looking for more ways to save money on your electricity, try comparing Ohio electric rates and finding the cheapest rate in your area. At Ohio Energy Ratings, you can find all the information you need to discover the best electric supplier and switch to a new plan.