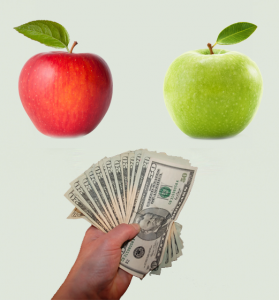 Cheapest Toledo Edison Electricity Plan
A chill is in the air, crisp Autumn leaves cover the ground, and electricity prices are low. Now is the time to shop for a new electricity plan while the electricity shoulder months are here. But what kind of plan would be the best to buy right now? Well, a long term 24 month electricity plans in Toledo would lock in a low rate. Check out these great long term plans that can help keep your monthly bills low through the next two winters!
Compare Cheapest Electricity Rates
The cheapest 24 month plan in Toledo is Public Power's 24 Month Fixed. It has a low rate of 5.72 cents per kWh which is up to Public Power's signature cheap electricity price. It also comes with no cancellation fee, so leaving is not as much of a hassle as other plans.
The next cheapest plan is APG&E's TrueSimple 24, with a cheap rate of 6.02 cents per kWh. Unlike the 24 Month Fixed, it has a hefty $200 cancellation fee. The best thing about both these plans, they have online account management, you can look at and pay your bills online. While Public Power will just let you look at and pay your bill, APG&E will give you a prediction at what your final bill for the month will look like.
Shop For Best Electricity Plans
Santanna Energy Services Premium Pick 24 Month plan has a cheap rate of 6.47 cents per kWh. With a $100 cancellation fee, it is a good alternative if you don't want to risk the hefty cancellation fee of the TrueSimple 24.
Meanwhile, Xoom Energy's SureLock 24 offers lots of convenience for account management. It has a hefty 6.99 cents per kWh rate, and hefty $200 cancellation fee, but there's many online readily available services. From online payment, account management, easy cancellation of the plan or changing plans with Xoom quickly. Xoom has many great reviews from satisfied customers, making it among the best Ohio electricity companies.
Compare Ohio Electricity Plans
Tomorrow Energy's 24 Month Fixed plan offers a rate of 9.99 cents per kWh. Don't dismiss this plan because of it's high electricity rate though. This is the only green 24 month electricity plan and provides most of its energy from renewable resources. While you might pay a bit more for your electricity, getting this plan will allow you to help the environment and help grow green energy. This plan does come with a $75 cancellation fee, but if you care about the environment, this is a plan for you. The best thing is with renewable and natural gas electricity production growing, green energy plans like this are becoming cheaper.
Best Toledo Edison Electricity Plan
With the winter frosts coming, now is the time to buy a electricity plan. But what plan should you choose? Well if you want a cheap plan, Public Power's 24 Month Fixed plan is ideal. But if you care about convenience more than price, both APG&E or Xoom Energy are able to delivery that. If the cancellation fee's for both of those plans are too worrying for you, then Santanna is a good alternative. But if you want to do your part for the environment, Tomorrow Energy will help you protect it without leaving your home. Each plan fills their own niche, and there will be one fitting what you want.
For more deals on electricity prices, and tips for saving electricity, check out https://www.ohenergyratings.com.