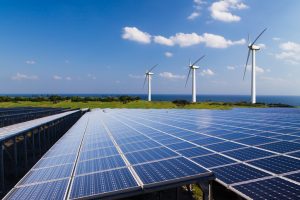 Dayton Power & Light Renewable Plans
Halloween is over and now winter is setting in with early morning frost and chilling winds. That doesn't mean that wind is a bad thing. In fact, with wind energy expanding to be one of the fastest growing sources of cheap electricity rates in Ohio, shoulder month electricity rates are still low. So if you've been holding back waiting for the best renewable electricity plans in Dayton, now is not only your chance to shop for a great deal but also do  your part for Ohio's environment!
Cheapest Renewable Plans in Dayton, OH
Signing up for a renewable energy plan does not mean you will receive 100% green-sourced electrons coming into your home.  Most renewable energy plans in Ohio are based on buying and selling renewable energy certificate (REC). Green electricity can't be tracked once it enters the grid. So RECs represent that one megawatt of green energy from generation to use. This way, end-use customers can show that they are using renewable energy sourced electricity. Using RECs helps increase the demand for renewable energy generation. They also increase the market share and profitability. That in turn spurs further development and investment, ultimately making green electricity cheaper to build and much more competitive with fossil fuel generators.
Compare Ohio Renewable Electricity Plans
Recently, Ohio state law changed how the state's green energy mandates work. As a result, electricity customers now need to pay close attention to rates on renewable energy plans. A longer term is not always the best deal. For instance, the longest renewable energy plan available in Dayton is Tomorrow Energy's 24 Month Fixed. Although it has a relatively low$75 cancellation fee and locks in the price longer, that 9.99 cents per kWh rate is regrettably much higher when compared apples to apples with other fixed rate 24 month plans. However,  Tomorrow Energy's 12 Month Fixed offers a much cheaper rate of 6.79 cents per kWh also with a low $75 cancellation fee. This combination makes this green energy plan far more competitive with fossil fueled plans.
Shop For Best Renewable Energy Plan
Though Tomorrow Energy is currently the only supplier of renewable electricity plans in Dayton, depending on how a proposed referendum fares in the Ohio Supreme, that could all change. And with it, the price you pay for electricity in Dayton. For more information on electricity and savings, check out https://www.ohenergyratings.com.