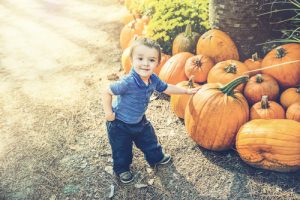 Ohio Apples to Apples, Compare Electricity Suppliers
It's the fall, the season for picking! Picking apples for pies. Picking pumpkins for jack-o-lanterns. Picking out Halloween costumes and decorations! And picking out great electricity plans! The fall months are the perfect months to shop around for great deals and compare electricity suppliers. That's because the shoulder months come in fall and that's when demand for electricity is low and prices go even lower. But what kind of electricity rate deals can you find in the fall months? Just check out the amazing rates on these 6 month electricity plans available in Columbus, Ohio!
Cheapest Electricity Rates in Columbus
The cheapest electricity plan available in Columbus is Quake Energy's 6 Month Fixed plan. With a low rate of 5.49 cents per kWh it is by far the cheapest of the 6 month plans. But it takes more than price to accurately compare Ohio electricity companies. Though this plan also has a low $50 cancellation fee, Quake Energy does not offer online account management options. So while the plan has a great low price, it lacks the online convenience of other plans.
The second cheapest electricity plan in Columbus is Constellation Energy's 6 Month Home Power Plan. It's price of 5.59 cents keeps it competitive alongside the Quake Energy's plan. It also has Constellation's guarantee period. If you terminate the plan within 90 days of starting it, you can leave without paying the $25 cancellation fee. However this plan also lacks online account management in the Ohio market. That means you'll have to make trips to the post office over the winter.
Find Best Ohio Electricity Company
The third cheapest plan is APG&E's TrueSimple 6 plan which has a fair rate of 5.95 cents per kWh. This might not seem like a huge amount when compared to the Quake or Constellation. However, this plan offers the convenience of viewing your bill and paying it online.  That said, this plan isn't perfect, as it has a $100 cancellation fee.
Compare Columbus Electricity, Apples to Apples
The final two electricity plans are Public Power's 6 Month Fixed plan and Santanna Energy Services Premier Pick 6 Month. Both are more costly than the previous plans, with the Public Power plan costing 6.11 cents per kWh, and the Premier Pick 6 Month costing 6.89 cents per kWh. They do have advantages as they both offer online payment and account management. However Public Power stands out better because it doesn't have a  cancellation fee. By contrast, the Premier Pick 6 Month has a $100 cancellation fee. Even though these plans aren't the cheapest, they're still great Columbus electricity plans.
Who Is the Best Columbus Electricity Supplier?
The best electricity supplier is the one who is providing what you need. So, don't just settle for the lowest price, compare electricity plans alongside their rates. Plus, the EIA has already estimated that winter electricity bills are likely going to be lower than last year. So, it pays you to find the best electricity rates in Columbus.
For some consumers, convenience is paramount. To others, the lowest price possible. Each of these plans has pros and cons but it really depends on what you need. Think of choosing a plan as picking a pumpkin, finding one that is the right size and price you want. Something that will let you create a masterpiece with it. Just don't go making your own Frankenstein's monster.
For more information on electricity plans and savings, check out https://www.ohenergyratings.com for more.