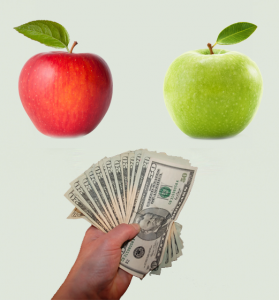 Ohio Apples to Apples Compare Electricity Plans
At the end of May,  American Electric Power (AEP)'s Price to Compare fell from 5.72 cents per kWh to 4.71 cents per kWh. While falling Ohio utility prices are usually good news, savvy Ohio electricity customers know that the PTC rate is only a monthly rate and that it will change. In fact, with summer cooling demand in place, the PTC could go higher this July.
Retail electricity suppliers, however, can offer plans with stable rates that on average have a lower annual price compared to the PTC rate. So if you can lock in a long term cheap electricity plans in Columbus, OH now, chances are good you'll be locking in a rate that it will be much cheaper than AEP's PTC yearly average. And definitely so by the end of the year, just in time for winter. 
Cheapest Electricity Plans in Columbus
Energy Harbor's Safe Harbor 24 is currently the cheapest plan available in Columbus. With a rate of 5.59 cents per kWh and no cancellation fee, it excels at saving money on electricity.
Titan Gas and Power's 24 Month Fixed plan has the second lowest rate in Columbus with it's rate of 5.64 cents per kWh. While its rate keeps it competitive with other 2 year plans, its cancellation fee of $150 denies customers much flexibility when it comes to switching to a different plan. So be ready to commit.
Public Power's 24 Month Fixed is the third cheapest 24 month plan in Columbus. With a rate of 5.69 cents, it's only slightly more expensive than Titan Gas' plan. On the other hand, Public Power has no cancellation fee, offering far more flexibility to customers.
Compare Best Electricity Suppliers
The last two 24 month electricity plans in Columbus are the most expensive, but do offer some unique benefits. First there is Xoom Energy's SureLock 24 with a rate of 5.99 cents per kWh and it's cancellation fee of $200. While both the rate and cancellation fee are high, it offers savings outside of electricity with their rewards program. With Xoom Energy's rewards program, you can get access to free promotional deals or even discounts for everyday shopping.
The last plan is Quake Energy's 24 Month Fixed has the highest rate of 6.49 cents per kWh. However unlike a few other plans listed, it has a comparatively low cancellation fee of $50. Quake Energy is also the highest rated Ohio electricity supplier on this list, with a ranking of the 5th highest rated company on Ohio Energy Ratings.
Compare the Best Electricity Plans in Columbus, OH
These five 24 month plans each have their own special appeals to different customers. And while these plans are a penny or more per kWh expensive than AEP's current PTC, they won't stay that way. These 24 month fixed rate plans offer rates that won't change for the next two years. AEP's PTC rate will change every month according to the wholesale market rate. If you want to save money over the long term when you  shop for the best electricity plans then these 24 month fixed rate plans should be on your list.
For more information on electricity plans and savings, check out https://www.ohenergyratings.com.