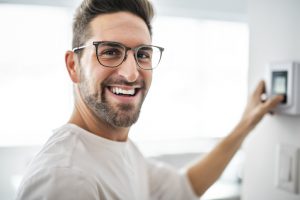 Beat The Heat With Amazingly Low Electricity Rates
The weather outside is frightful, and as the temperatures rise, we almost miss the snow! Well, almost. But with the thermometer rising, Ohio Edison's prices have also gone sky high. With the price to compare all the way up at 6.00 cents per kWh, can you still get a good deal on your electricity? We have four great plans to get you started. Don't miss these electricity rates in Akron!
The Cheapest 6 Month Rate In Akron
Looking for something short-term but dirt cheap? Check out the Santanna Preferred 6 Month Plus. It's currently priced at 5.39 cents per kWh, which is almost a whole 75 cents cheaper than Ohio Edison's price to compare. Make sure to consider the $100 early termination fee for this plan.
36 Months Of Great Low Rates
Looking to lock in a great low rate for longer? Check out this plan from Constellation! The 36 Month Home Power Plan gives you three years of fantastic prices. The best part is canceling early is only $25, which means you can shop for a great new price, or stick it out if you're happy with your plan.
Do you want something long-term electricity rates in Akron but with no cancellation fee? You can get amazing flexibility from Energy Harbor's Safe Harbor 36. Lock in their low rate at 5.64 cents per kWh, and cancel at any time with no early termination fee!
One Year Of Great Prices
The cheapest 12-month fixed-rate plan on the market, the Tomorrow Energy 12 Month Fixed plan is a great deal. At the low price of 5.78 cents per kWh, this plan is lower than Ohio Edison's variable price to compare. Be sure to note that Tomorrow Energy charges a $75 early termination fee, which could be high for some consumers.
What Happens When My Akron Electricity Plan Expires?
As with all these plans, make sure to put your renewal date in your calendar! In Ohio, your electricity supplier must notify you by mail at least 45 days before your contract expires to inform you about new contract terms. You also have the option to switch providers. If you don't respond or just ignore the notifications, your supplier can automatically roll you into that new rate. That new rate could cost your more so be sure to shop for the best Akron electricity rate.
Find The Best Electricity Rates in Akron
With these three great offerings for the Akron area, you're bound to find something that fits your home perfectly. If you don't find it here, don't worry! There are tons of plans for your area waiting to be discovered all over Ohio. For more ideas to save big on your electricity, or for more great plans, check out www.ohenergyratings.com