Best Ohio Natural Gas Suppliers Ranked
Posted on
Why Rank Ohio Gas Suppliers Now?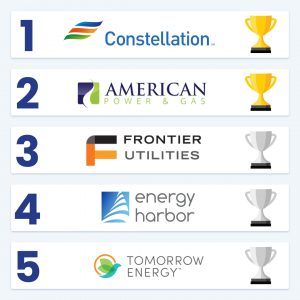 Though it has not always been easy, Ohio's natural gas market has improved over the past 20 years. As a result, customers can now choose natural gas suppliers in each of the state's natural gas utility areas. Currently, there are over 130 gas providers doing business in Ohio. But while customers have more choices, they find they need more help to choose the best supplier for their needs.
Because Ohio is such a large and active market, its natural gas customers need to know how different providers compare. That's where Ohio Energy Ratings comes in.
How OHEnergyRating.com Ranks Suppliers
For starters, Ohio Energy Ratings looks at a variety of sources to compare and evaluate suppliers. This also includes comparing provider plans with the things customers expect and want from actual plans and rates. We also use independent customer reviews from other sources. These include complaint information from the Better Business Bureau and Public Utility Commission of Ohio (PUCO). As a result, we're able assemble a more complete picture of how well a supplier is serving its Ohio customers.
So, let's see which natural gas suppliers are the best ones in Ohio.
2022 Ohio Gas Supplier Rankings
To begin, Constellation Energy is the #1 natural gas provider in Ohio for 2022. A long time supplier in the Ohio market, Constellation has received great customer reviews. Many of these point out extremely competitive rates and a variety of different plan lengths.
Next, American Power & Gas. (AP&G) comes in at the #2 position. AP&G excelled in Ohio with great charitable endeavors, and community involvement. They also offered competitive plans and pricing, and got great scores on customer reviews.
Lastly, rounding out our top 3 for reviews is Frontier Utilities. Frontier is an experienced energy provider serving many of the deregulated energy markets across America. The company also really sets themselves apart with customer communication, customer service, and robust account management options. They also had very competitive rates in many markets.
The remaining rankings of the Top Ten Ohio Natural Gas Suppliers follow below:
Energy Harbor
Tomorrow Energy
Cleansky Energy
Santanna Energy
Xoom Energy
Symmetry Energy Solutions
Provision Power & Gas
Shop and Compare Natural Gas Supplier Deals
Of course, we know it's not even summer yet and next winter is over 6 months away. But natural gas prices are rising and there's a whole summer full of uncertainty ahead. So, if you've been putting off comparing providers, think again. We've already ranked the best natural gas suppliers. All you need to do is shop the best plans that fit your lifestyle at https://www.ohenergyratings.com. Don't wait for higher winter rates! Lock in a low fixed rate natural gas plan and start saving now.