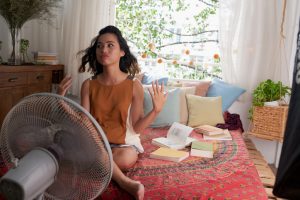 Stay Cool With These Amazing Electricity Deals
Summer temperatures are here, and it's a heatwave! Time to power up those box fans, window air conditioners, pool pumps and more. Unfortunately for those of us who pay electricity bills, those all can drive your electric bill higher than your thermometer! With Duke Energy's price to compare at 5.54 cents per kWh, you might want to look for a better deal until temperatures slack off. Get these cheap electricity deals in Cincinnati today!
Great Low Electricity Price For 3 Months
Looking for cheap electricity deals to beat the heat? Check out NRG's Electric Choice Plan 3 Month great rate! At just 5.10 cents per kWh, this rate also comes with no early termination fee. Remember, though, that this rate is only guaranteed the first 3 months of your contract with NRG. Afterwards, the plan continues on as a month-to-month with a variable rate. So, because NRG must notify you when your plan is about to expire, make sure you watch out for it and shop for a new plan. Otherwise, you could wind up paying more!
A 6 Month Plan With A Price To Melt For
Looking for something short term but dirt cheap? Check out the Santanna Preferred 6 Month Plus. It's currently priced at 5.39 cents per kWh, which means you'll be saving a bundle over the Duke Energy PTC. Be aware that the plan comes with a $100 early termination fee. Also, at the end of your contract, the plan will roll over onto a variable month-to-month contract with no cancellation fee. So watch for it and be prepared to shop.
Get 12 Months Of Great Electricity Deals
The cheapest fixed rate 12 month plan on the market, the Tomorrow Energy 12 Month Fixed plan is a great deal. At the low price of 5.39 cents per kWh, this plan is lower than AEP's variable price to compare. This plan does have a $75 early termination fee, but with all the savings you'll be making, you'll want to stick with this one.  At the end of your term, you'll get two notices from Tomorrow Energy explaining what your new rate plan could be, and how to go about either renewing or cancelling your service with them.
Get 3 Years of Great Savings
Want to lock in a great low price for the long term? Try the super budget friendly 36 Month Home Power Plan from Constellation! At just 5.49 cents per kWh, and a super friendly early termination fee of just $25, you can keep yourself far ahead of the price curve for years to come. Get off Duke Energy's ever-changing standard offer and shop for an electricity plan so you can enjoy a fixed rate.
Shop Great Electricity Deals Today!
Shopping for summer time electricity doesn't have to be something that makes you sweat. Use these rates as a great jumping off point to find more cheap electricity deals! There's always a rate that will fit your home perfectly. Be sure to grab one before the Price To Compare changes at the end of the month! For more great rates, tips, and tricks, check out more at www.ohenergyratings.com