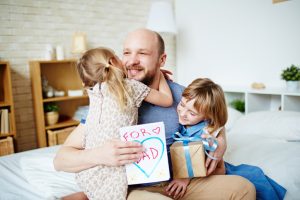 Best Energy Efficient Appliances
Father's day is coming up, and even though all fathers are different, one thing every dad loves is saving money. If there is any place someone could save a lot of money, it's on their monthly electricity bill. The best way to save money on their monthly electricity bill is by using less electricity. While that might seem simple, it can be hard given how important technology is today. But luckily energy efficient products and smart appliances are more plentiful than ever. So on this Father's day, why not get the best dad you've ever had one of these great electricity efficient appliances.
Best Smart Appliance for Fathers
Though Ohio's competitive electricity plans keep electric bills low, smart appliances can reduce your usage further. That means your dad could save even more money on his Ohio electricity bill. What better smart appliance could a father need than the Behmor coffee maker which has his coffee ready as soon as he's awake. Using the handy app, he can set a time for it to start making coffee and even select brew methods through a library feature on the coffee maker's smart phone app. Your dad wonder why he didn't think of getting a smart coffee maker before.
Or if he wants to chill, the Sobro smart coffee table has a built-in cooler for storing cold beverages. It comes with built in Bluetooth speakers, so your dad can listen to his favorite music while relaxing after work and includes convenient built in USB charging ports and power outlets. Just pop the table to top to pull a drink right out of this smart coffee table's cooler.
Best Energy Efficient Refrigerator
Even with a smart cooler, your dad will still need a fridge. But because they're running all the time, they might leave him chasing after higher Ohio electricity bills. Standard refrigerators can use anywhere from 1 to 2 kWh every day, that could mean over 700 kWh used yearly. If you own a standard model, you could pay over $90 a year, given the current combined average Ohio electricity rate is 13 cents per kWh.
An energy efficient refrigerator could help him save more money than his trusty old one. New energy efficient refrigerators use under 300 kWh a year. That's an annual electric bill savings of $35, something any father would chase after.
Energy Efficient Power Tools
If you want a practical-something that fathers can actually use all the time, look no further than some energy efficient power tools. A father's work around the house never seems to end so good power tools are essential. Cordless power tools are not only convenient but also up to 30% more energy efficient than previous versions. Plus, battery life has come a long way in recent years.
Best Ohio Electricity Savings
Fathers love saving money. In some ways, the savings you can get through efficient and smart appliances might seem insane when you add up the reduction in usage. Still, real electricity savings comes from getting a lower rate by switching electricity plans to a new electricity supplier. While your dear old dad can reduce his electric usage with a new energy efficient beer fridge, shopping for cheaper electricity rates is the best way to lower those monthly bills.
For more information on electricity savings and tips on decreasing your monthly bill, check out https://www.ohenergyratings.com.