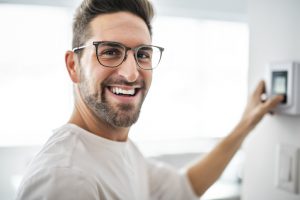 Save A Bundle On Two Years Of Electricity
Ah, spring. The time of unending pollen, Daylight Savings Time, and a daily conundrum of whether it's an air-con day, or a heating day. With HEPA filters, night lights, and constant heating and cooling, you might be feeling the squeeze in the region of your wallet. Not to fear however, AEP's price to compare is staying low at 5.03 cents per kWh. So now is the time to shop cheap long term energy in Lima. See how you can lock in a great electricity rate for the next 24 months!
The Best Savings
First off, if you're looking for a great deal that will gives you a super easy plan, check out Energy Harbor's Safe Harbor 24 plan. This plan is fixed at 5.59 cents per kWh, and has no cancellation fee. Make sure you watch the mail though! You'll get two notices about contract renewal, one at 3 months, and one at 1.5 months before your contract expires. If you don't cancel the renewal, you can get rolled onto a new plan at a new rate automatically.
Shop Cheap Energy For New Customers
Next up, we're taking a look at Public Power's 24 Month Fixed plan. This plan also comes with no termination fee, making it easy to switch if things aren't working out! The 24 Month Fixed plan is at 6.09 cents per kWh, making it cheap and affordable for your home. Beware though, this rate is only for new customers! Returning Public Power customers may face higher rates and termination fees.
The Best Extras
Looking for your electricity to do something more than just keep your lights on? The Xoom Energy Sure Lock 24 comes in at the low price of 6.19 cents per kWh, but it does come with the big early cancellation fee of $200. Xoom does offer some great bonuses though! Using Xoom Xtras you can get gift cards, and savings on everything from tires and restaurants.
Long Lasting Stability With A Great Price
Our next plan is the APG&E TrueSimple 24 plan. This plan offers a great price of 6.22 cents per kWh, but does come with a cancellation fee of $200, and a monthly recurring charge of just about $1.99. What APG&E can provide is stability. They've weathered a lot of storms like the infamous Texas Freeze, and have service in several states. Make sure you watch that end date though! If you ignore the notices from APG&E, the consequences can hurt. If you don't respond to the renewal notice, your plan will be swapped to a variable month-to-month plan.
Save On Your Lima Electricity Bill Today!
It's the perfect time to shop cheap energy rates for your next two years in Lima. Lock in a new fixed rate plan for a fresh start, and save yourself the headaches of keeping up with the power company. While you're at it, make sure to try some other great tips and tricks to keep your electric bills low. When it's time to shop again, come on back to www.ohenergyratings.com to shop more great deals on your power.