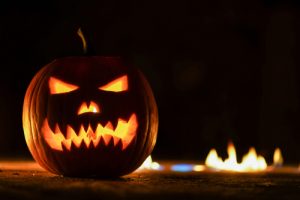 Finding Some Spookable Savings in Dayton, OH
We know shopping for your new electricity supplier can be a nightmare. With so many choices, it can be like sticking your head under water. But there won't be any bobbing for apples here. The Dayton Power and Light Price to Compare is staying low at 4.6 cents per kWh, and these prices will stay low until the end of May 2021! Check out the ghoulishly great electricity rates we found for Dayton residents.
An Electricity Plan Going Ghostly

Green
Looking for something eco-friendly? The Tomorrow Energy 12 Month Fixed plan is right for you! Currently priced at 5.19 cents per kWh, this is sitting a little higher than the PTC. Just remember this price is locked down for the next 12 months, while the PTC is only locked in until the end of May 2021. Even with the mystery of next year's rates, you can be sure your electricity will be the same price as it is now.
TRICKS: Watch that renewal date! This plan won't roll you back to Dayton Power and Light at the end of your term. If you don't renew, your plan is rolled over to a variable month-to-month plan. If you're not looking to renew, remember to shop other electricity rates in Dayton to see what we have brewing.
TREATS: This plan has the lowest cancellation fee at $75, meaning that if your plans change, you won't be stuck in the witches' cauldron for quite so much money. Tomorrow Energy also buys 100% wind power RECs, meaning your monthly bill can help support green energy, letting you save the environment while you save money.
Electricity Rates in Dayton That Save More Than Money
If you're looking for an easy way to give back, check out the XOOM Energy RescueLock 12 plan. This plan comes in at 4.89 cents per kWh, meaning scary great savings for your family before summer comes next year.
TRICKS: This plan does have a higher comparable cancellation fee (cost recovery fee) of $100. There is also currently a promotion available to get an e-gift card. But, if you've been with XOOM before, or are just looking for a different plan, you're not going to be able to get this offer since it's for new customers only.
TREATS: A great bonus to this plan is that 5% of your monthly payment is donated to the PetSmart Charities, meaning that as the winter sets in, you can help find animals their fur-ever home.
The Lowest Fixed Price Plan
If you're looking for the cheapest electricity that won't suddenly jump in price beyond your means, check out the XOOM Energy SureLock 12 plan. This plan has no bells and whistles, just the low price of 4.59 cents per kWh at a fixed rate.
TRICKS: You won't get anything additional with this plan. There's no unpleasant surprises lurking behind corners, but there's also no notable benefits. The cancellation fee is $100, which could be a hefty chunk of change if you're trying to save. Again, there is that $100 e-gift card, but that's only going to benefit new customers for XOOM.
TREATS: Lock in those savings! The cost of this plan is lower than the current PTC. That means that combined with some helpful energy saving tips, your electricity bills can be the lowest you've had yet.
Save With These Scarily Cheap Electricity Rates
These three electricity rates are some of the cheapest in Dayton, and hopefully they'll help you through the sea of companies and plans. Now is the time to save with rates still so low. If you don't, the most terrifying thing of all could be your electricity bill. You'll be sure to find a plan and rates that fit your home like a dream at www.ohenergyratings.com