Try These Favorite Super Bowl Party Snacks
Posted on
These Great Snack Ideas Are The Real Winners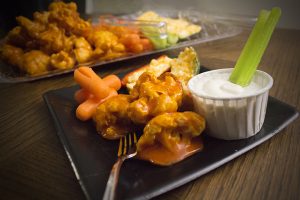 These out of skybox snacks will score big with everyone at your Super Bowl party. And while your team might not win the day, you can save on your Ohio electricity bill with some great energy-saving tricks! Try these favorite Super Bowl party snacks this Sunday.
Favorite Stuffed Super Bowl Peppers
Do you love stuffed peppers but hate the act of stuffing the peppers and piecing them together again? Then this is the recipe for you. Get a bag of the peppers you intend to stuff, some shredded cheddar cheese, and a block of cream cheese. Slice all your peppers in half lengthwise, remove the seeds, and arrange on an ungreased baking sheet. Mix the block of cream cheese, and shredded cheese of your choice in a bowl. Using your hands, roll little cheese snakes to put inside your sliced peppers. Bake at 350ºF until the cheese browns on top.
Bonus Flavor Addition: Add bacon bits to your cheese mix.
Bonus Energy Saving Tip: Make these in a toaster oven to save on oven space, and electricity! Toaster ovens use about 1/3-1/2 as much power as a conventional oven.
Don't Chicken Out On The Vegetarian Options
Wings are a classic favorite for Super Bowl Sunday, but definitely not vegetarian-friendly. Try these awesome Baked Buffalo Cauliflower Bites as a veggie option that even the pickiest of eaters will love.
Preheat your oven to 450ºF. Break up a head of cauliflower (if you want to save time, consider getting pre-chopped) into bite-sized chunks. In a bowl, combine 1 cup of milk, a 3/4 cup of flour, and 1 tablespoon of garlic powder. Dip each piece into the mixture, allow to drip for a few seconds, and place on the baking sheet. Once your pan is full, spritz the top of your cauliflower bites with oil, and bake for 18 minutes. Toss in a combination of 1 tablespoon of butter to 1/2 cup of your preferred buffalo sauce. Serve with blue cheese dip for a great spicy snack.
Bonus Flavor Addition: Add some salt, pepper, and cayenne to your dredge mix for an extra kick.
Bonus Energy Saving Tip: These can also be made in a toaster oven for smaller batches.
Surprisingly Simple Low Calorie Cookies
Despite their mouthwatering taste, there's a Pavlovian response to meringues: "it's too hard". But making meringues is surprisingly easy. Start by preheating your oven to 225ºF. Line a cookie sheet with parchment paper (don't grease it!). Separate the whites from 4 eggs, and add those to a clean bowl. Add in 1/2 teaspoon cream of tartar, 1/8 teaspoon salt, and 1 teaspoon of vanilla. Start whisking with either a stand mixer or a hand mixer. Begin adding in 1 cup of sugar one tablespoon at a time and letting it dissolve. This is also a great point to add in any food coloring you intend to use a few drops at a time. Whisk until the whites form stiff, glossy peaks.
You can pipe these out with a piping bag, or go the easy route and use a plastic bag with the corner cut off. Pipe out onto your cookie sheet, and bake for one hour. After the cookies are done baking, turn the oven off and let them cool down with the oven. Pop them off the paper and serve for a great tasting, crispy, low calorie sweet!
Bonus Flavor Addition: Try adding other flavors! We recommend almond, lemon, or a combination of vanilla and orange.
Bonus Energy Saving Tip: While you have the oven on, turn down your heat. The ambient heat from the oven will warm the house plenty without having your heat running on full blast. Additionally, you can turn on the furnace fan to maximize the use of heat in the house.
Electricity Savings for Your Super Bowl Party
Throwing together a favorite dish for a Super Bowl party is a lot of work. But shopping for electricity doesn't have to be. There are always going to be more ways to save more on your electricity. Check out more tips, tricks, and shop great rates at www.ohenergyratings.com