Best Electricity Plans in Cincinnati
Posted on
Compare and Shop Best Recommended Electricity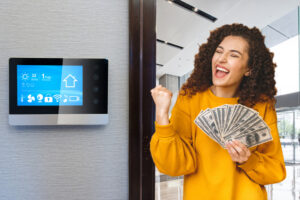 I bet you've heard the good news for this year's strong El Niño winter weather: dry with above normal temperatures. But the bad news is that you'll still need to heat your home. Plus, we'll still likely face some bitter cold blast through the Cincinnati area. Luckily, energy prices are still much lower than last year. In fact, many easily beat the Duke Energy default electric rate. So, to save even more money this winter, let's dive into the best electricity plans in Cincinnati from four select suppliers.
Best Fixed Rate Electricity Plans
An average Ohio electricity customer uses about 874 kWh per month (with more in the winter, of course). With the Duke Energy Price to Compare (PTC) of 9.6 cents per kWh, the monthly electricity supply part of the bill comes to around $83.90. Unfortunately, the PTC changes every 6 months so you never know what to expect when the seasons change. Fixed rate plans, however, give you certainty.
First off, Gold Award-rated Constellation Energy is offering two fixed rate plans that both beat the PTC. The main difference between the two is their contract length. The 9 Month Home Power Plan fixes the supply rate at 6.69¢ per kWh. That's just $58.47 for the monthly supply cost. Their other plan is their 36 Month Home Power Plan at 8.19¢ per kWh (or roughly $71.58 for monthly supply) which it locks down the rate for a full 3 years. Talk about certainty!
Neither plan has monthly recurring charges and there's a low $25 early termination fee (ETF) if you leave early. When their contracts expire, Constellation automatically enrolls you into a new plan unless you respond to their renewal notice. Lastly and best of all, both come with Constellation's Satisfaction Guarantee. You can terminate the plan within 90 days of enrolling and you'll go back to the PTC.
Recommended Best 12 Month Electricity Plans
Another Gold Award winning supplier, Frontier Utilities, offers their OH Frontier Online Premier-12 plan with a 6.99¢ per kWh rate. Though not the cheapest 12 month plan, it does boast two highly competitive features. First, there's no monthly recurring charge. So, it's easy to estimate your monthly bill. For example, a monthly supply estimate comes in at just $61.09. Second, there's no ETF; you get the flexibility to leave the plan if you need to. When the contract expires, the plan does automatically renew to a month-to-month variable rate. So, be sure to watch for those plan expiration notices.
Another well-rated supplier is Public Power. Their Electric 12 Month Standard Fixed plan comes in at 7.59¢ per kWh, beating the PTC by 20.9%. An estimated average for monthly supply runs about $66.33. That keeps a lot more money in your bank account and out of Duke's. There's also no monthly recurring charges or ETF to worry about. When the contract is about to expire, Public Power will offer you a new plan. Make sure you respond otherwise, they will automatically enroll you in that new plan. Lastly, Public Power rates appear to track the wholesale market prices fairly closely. So, if you like their plans, you'll want to watch price trends closely to grab their lowest rate.
Shop and Compare All the Best Ohio Electricity Plans
The best place to learn about all the cheapest energy plans in the Duke Energy area is here at https://www.ohenergyratings.com. You can compare rates, read real customer reviews and follow the important news stories that affect your Energy Choice in Ohio.