About North American Power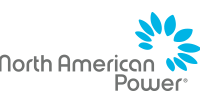 PUCO#:
North American Power is an electricity and natural gas supplier that offers a range of competitive, environmentally-friendly fixed and variable rate products, and serves over 250, 000 customers in 11 states.
---
Looking for more options? Enter a zip code and check out all our plans!
---
3 Reviews and Replies for North American Power
One year of great service!
(5 / 5)
" I signed up with North American Power a year ago and I have had no issues with them. The power has remained consistent with no issues at all.I hope I don't jinx myself because it is -10 degrees here tonight and has been this cold for a week. "
— Donna
January 6th, 2018
---
Billing and Account Management
How likely are you to recommend
Price, Plans and Promotions
North American Power is Ok with Me
(4.4 / 5)
" I signed up with North American Power last year and have found their rates to be competitive, their customer service team is responsive and friendly, the billing statement is concise and easy to read. My plan is coming up for renewal in January and I will definitely stay with North American Power for sure. "
— lisa c
December 13th, 2016
---
Billing and Account Management
How likely are you to recommend
Price, Plans and Promotions
Sign up and forget
(4 / 5)
" I am not constantly nagged about upcoming promos or having to recruit friends "
— Ldawg
December 11th, 2016
---
Billing and Account Management
How likely are you to recommend
Price, Plans and Promotions