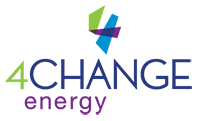 PUCO# :
" Compared to other utility customer service, 4Change Energy exceeds expectations! "
— Reverend Erma Myers
June 30th, 2020
" Promised no fee to move out of state. Now they are impossible to deal with and will charge fees until May 2021! Stay away! "
— Houston
June 29th, 2020
" I am very pleased with the company. To me everything was clear and easy to read. I compared 4change with other services. I decided to go with 4change and that was over 4 years ago. I recommend them as a provider. "
— satisfied customer
June 29th, 2020
Not a very good reliable utility company
" I sign on with 4 Change energy because they promise 7.2 rate but my first bill the rate was 17%. but my bill show 17%.I called them and they told me the rate I was paying was 12 %. and I pay $88 . I cancel their service because they lie about the rate so the next bill was $383 , with a $200 penalty for canceling them. "
— Clartence Spencer
June 27th, 2020
Need fair pricing? Switch to 4 Change!
" I decided to try them out after getting raked over by TXU. I'm so glad I did! My bills have never been lower than they have since signing up with 4 Change. In a one bedroom apt, my bills are have been holding at between $55-$65 per month. TXU.. much higher!. I did myself a big saver favor and glad I did. "
— Swealtering in TX
June 27th, 2020
The Juice is Worth the Squeeze
" We have used this service for a year and the service has been great. So great we are signing on for another year. "
— Best Service in Texas
June 26th, 2020
" Best electric company I have ever been with. "
— Michael Robinson
June 23rd, 2020
" I have renewed with 4 change energy several times. When I compare my bill with others mine is always lowest. Customer service has been excellent whenever I have question or concern. "
— RMM
June 21st, 2020
Trustworthy Electric Company
" Very reasonable bills on 2 occasions of using this company. No scams like other companies I have tried. "
— Anonymous
June 19th, 2020
" I renewed under the exact same plan and rate, they raised my rate by .002 per kw/h. This was not what I agreed to, and is deceptive as hell. They will not provide me an answer as to why I get a DNP fee either, even though I paid by the evening of the due date multiple times. Also have been trying to get a copy of my contract, but it never seems to make it into my e-mail inbox. "
— PsdOv
June 18th, 2020
" 4 Change Energy has been the best company by far I have ever had that not only send me update and information on my account but also when my choice that I had picked out was do to expire they sent me notice so I could update before hand and even offer a gift card I have never had that from any other company and I had just soon pay my money to someone who treats me as a valued customer so I am here to stay Thank you 4 Change Energy "
— D Simmons
June 12th, 2020
" I have never had any trouble with 4Change. I chose to use this company because the rates are great and because of using renewable resources to provide our electricity. I have recommended it to neighbors. "
— Lyn H
June 11th, 2020
" Awesome company "
— Joe Guerra
June 4th, 2020
" I received an email for automatic renewal at the same price instead of my pricing going up. The renewal took one click and I kept my current rates! Thanks for caring about your customers! "
— Angela
June 4th, 2020
" I have nothing to write about 4Change except very good rates and good service. "
— Ed Surrey
June 3rd, 2020
" I love that I can get competitive rates even for 100% renewable energy AND select a local charity to give money to at the same time. My electric bills are always lower than my friends and we have a two story home and keep it cooler than anyone we know. The entire process is easy. "
— Melissa
June 3rd, 2020
Best electricity company period
" I have lived in Texas for 15 years, and I have tried several electricity companies. 4 Change Energy has given me the best rates and outstanding customer service while helping community organizations close to my heart. Thank you for being awesome! "
— Z Solano
June 3rd, 2020
" They have not made any mistakes with my monthly bill, they are unobtrusive but effective. Only called Customer Service once, and the experience was pleasant. "
— Scortch
May 30th, 2020
" These are the nicest people on the planet. They asked if I wanted to extend my plan, and I said YES. I will never go with another company unless we move to Timbuktu, which is highly unlikely. "
— Lanna Richards
May 29th, 2020
Much Better than Expected
" I have been changing electric providers every year; however, this is the end of my second year with and I just extended my service for another year. The other providers changed plans every year (increasing rates) doing away with the plan I had chosen the prior year. I like consistency. "
— Scott
May 27th, 2020